Presentation and Limited Edition Rods
---
Each year we craft a small number of unique, limited edition, presentation grade rods. These rods feature building techniques that require extraordinary ability, craftsmanship, attention to detail, and time. They are truly a unique one-of-a-kind collectable.
---
MAGNUM (D)OPUS
This is a cropped pic of me in the shop, holding the butt, mid and tips of a recently delivered rod. So, what's the BIG deal, you might ask? The sections are resting on the floor, and I'm 5'8"!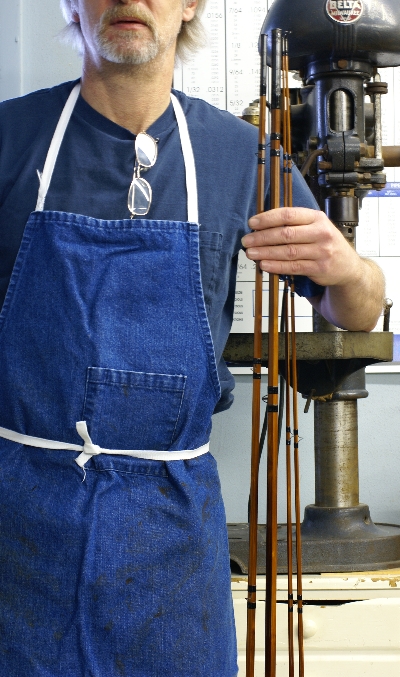 So, why the name Magnum (D)Opus? It's been said that if a bamboo trout rod is a string quartet, a bamboo salmon rod is a Symphony. I'm totally in agreement with this statement. This whole project began when our good friend Harry called and asked if we could build him a two-handed Spey rod. Harry is a great guy who owns a number of some of our more difficult to build pieces, and without hesitation (and thinking) I said yes. The rod is the Magnum, and I am the Dopus, because I had no foresight how many challenges this rod would represent. We've built a number of salmon rods in the past(just page down to see another), but nothing of this scale!
How big is it? How about 14.5'! To give you an idea of the size, here it is with my 7' 4-5 wt. trout rod butt section above it.

The trouble began almost immediately. I pulled out the largest culm of bamboo we had, and split it into very wide strips which were a bear to hand straighten. I then realized that the butt strips needed to be so big that they exceeded the capacity of our mill, so the whole thing needed to be made by hand! I pulled out the planing forms to start the butt and the form needed to be opened so far the indicator point fell right through the forms. So, I had to make a custom indicator point just to set the butt dimensions in the form.
The next hurdle occured when I placed the first roughed out butt strip in the form to start tapering it. The strip sure looked big enough, but like the indicator point it also just fell into the form! The problem was, even using the most massive culm I had, the strips weren't thick enough. So, I had to double build both the butt and mid sections just to taper the strips. No problem there, excepting that Harry wanted this rod built semi-hollow, which meant that all the work to meticulously laminate the strips would be later removed when the rod was hollowed!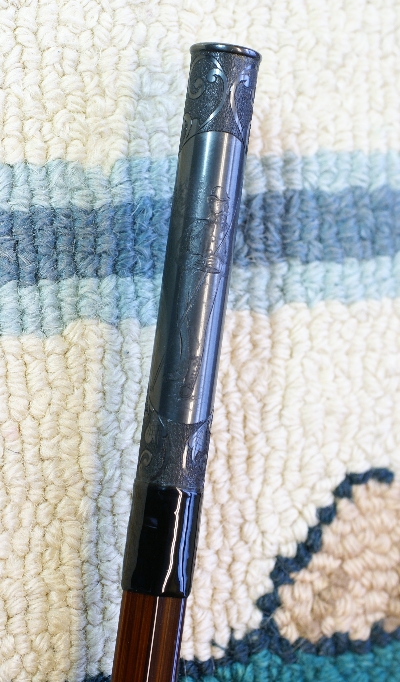 The next difficulty was overcome when Bailey Woods at CSE set me up with the ferrules. The butt/mid is a size 28/64 and the tips are size 19/64. Again, as an example of scale, a typical trout rod of 8' might take size 16 and 11 ferrules! On the other hand, ferrules this big are very nice for engraving. I copied some pictures of salmon fishing scenes from various books for the engraver to work from. He did a wonderful job of it, and the butt section features an old pic of a fine chap holding an old two-handed salmon rod.
The tip ferrules feature engraved salmon fly patterns on the males, and a leaping salmon and bear on the mid female ferrule.
Of course, all that metal to engrave(plus the reel seat and end butt cap) sure runs up the engraving bill! The next problem was the grip. I had never made a two-handed rod before, so my good friend George brought over a bunch of his two-handed cane rods to show me. Most of the grips were 26-27" long! That's a lot of expensive cork, 52 rings, plus I had to make a cork press big enough to press a 26" long grip. Another trip to the hardware store! The next problem became immediately apparent as soon as it came out of the press: how do you turn a 26" grip? You need one BIG lathe. Luckily, some friends who own a machine shop allowed me to use theirs, but even theirs wasn't large enough to hold 27" between centers...we had to rig up the tailstock onto a drill press table and get everything aligned properly. And because I used slide bands for the seat, this meant the grip had to be turned in two stages, with two trips to the machine shop just to get the grip done. I like slide band seats, and some of George's classic salmon rods also had them. They are secure, keep the weight down, and allow some latitude in where the reel is placed, which affects the balance of the rod.
What about a winding check for a rod that was about .600 across the flats? Oh, yeah, I had to make that, too.
Harry wanted a mahogany finish, so I also made the fighting butt from mahogany so it would all match. The next problem: how the hell do you varnish sections almost 5' long? By hand, of course, and I have to say it came out well after hand applying 4 coats and rubbing out. Next was wrapping and sealing the 20 or so guides on the rod. All went well, at first. I was shooting for a delivery date of mid-December. I had three coats of finish on the wraps, and although they looked good I thought an additional coat would really look fantastic, so I applied the last coat varnish to the wraps. On Friday, December 13th I went into the wrapping room with the intention of putting the last touches on the rod, getting some photos and sending her off. Much to my dismay, every single wrap had wrinkled, which meant the whole rod had to be stripped, revarnished and rewrapped and sealed. Oy.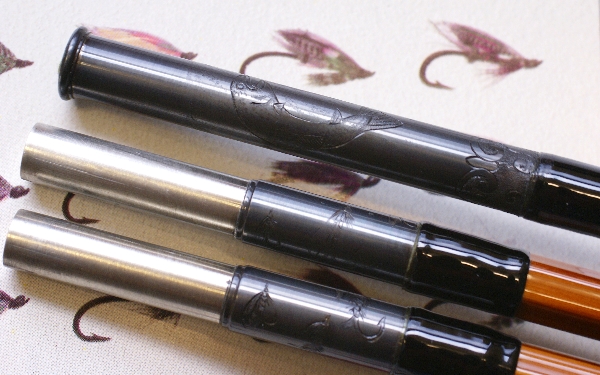 But she finally got finished and shipped off. I figure that even without having to strip and revarnish and rewrap the rod we could have easily built 3 or possibly 4 trout rods in the same amount of time it took to build this one. But I learned a lot and this gave me the push to start hollow building(the rod came in at 12.1 oz, exclusive of the grip and reel seat rings), but the biggest lesson of all was this: I will never build another one!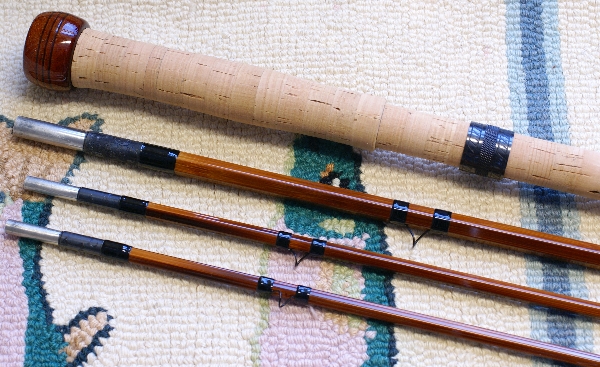 Fishin' Pole
This story begins with an order from our good friend and customer Bob Wilczynski. I love making rods for Bob because there's always a twist involved: he'll pick out the taper he wants for a certain fishing situation, and then we'll discuss ways to make it unique and special. Usually, this is a collaboration between us, but this time he let me free to create whatever I wanted.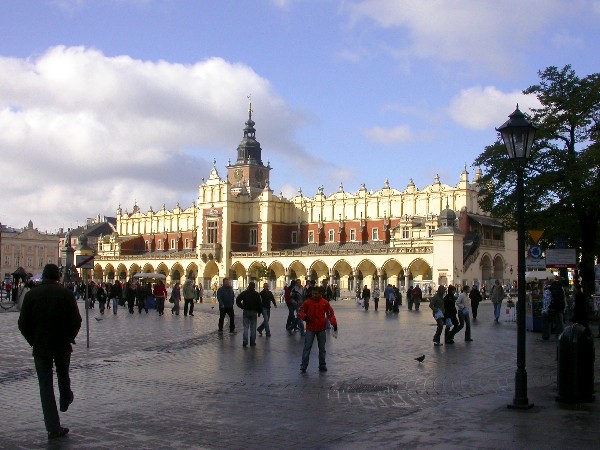 Cloth Hall, Krakow, Poland
I pondered for a long time about how to approach this project, until one day Casimira and I were sitting at a little cafe' in Krakow near the Cloth Hall. I was looking at some Polish coins called groszy, and noted that the 10 groszy piece was about the size of a reel seat butt cap. Hmmm...maybe this can be a Polish rod for our Polish friend! I noticed on all the coins there is an eagle and on the back are oak leaves, and did a google search to find out their significance. I came upon this legend about how Poland was founded:
"The story behind the Polish emblem is connected with the legend of Poland's founding. Three brothers Lech, Czech and Rus were traveling through the woods looking for land where they could settle. When they finally came out of woods, they saw a vast valley surrounded by hills and lakes. On the top of the highest hill was an old oak tree where an eagle had its nest. When brothers approached the oak tree, the eagle flew down and sat on Lech's shoulder. At that moment, Lech decided to adopt the white eagle as the emblem of his nation and founded his nation around the oak tree. Its name was Gniezno, which later became the first capital of Poland. Lech's brothers, Czech and Rus, each went off to look for their own lands to settle. Czech went to the south and founded the Czech Republic, and Rus went to the east and founded Russia."
Cool! Eagles and oaks!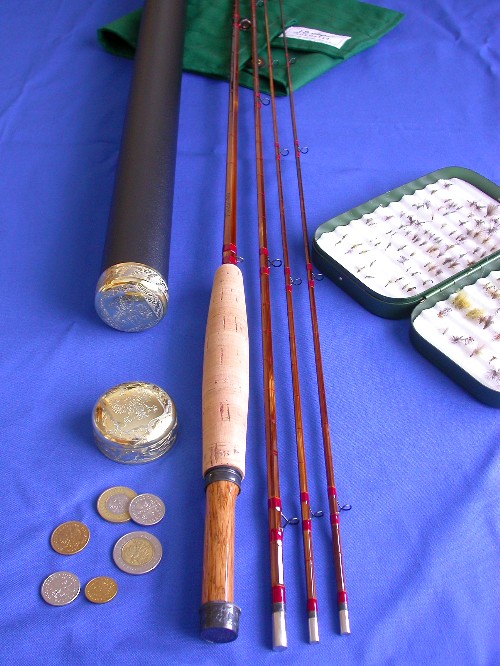 The first thing was to inlay and solder a 10 groszy piece on a buttcap: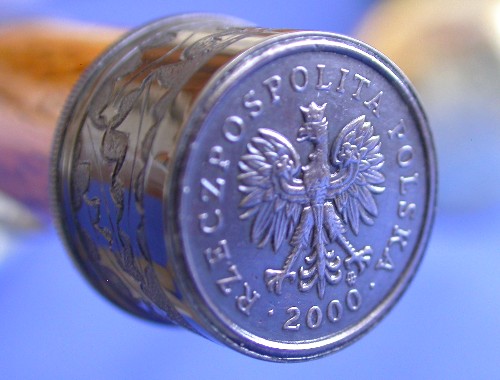 Cool!!! The next thing was to have the ferrules and reelseat engraved with the oak leaf motif.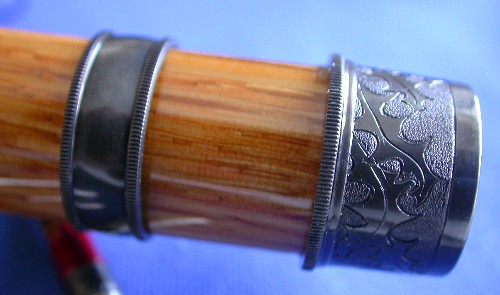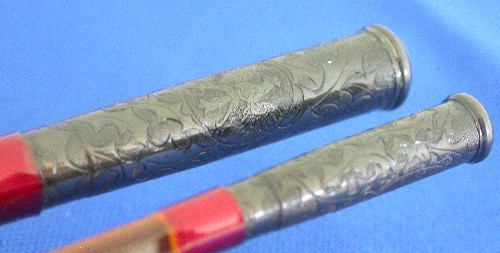 If you look closely, you can see the eagle also engraved on the top female ferrule.
Of course, the reel seat spacer just had to be oak! The Polish flag is red and white, and I wanted to reflect that in the wrap colors, but white silk doesn't do much for a rod. But I remembered a beautiful red and gold emblem on Krakow's Florian Gate, so we went with red wraps and intermediates with gold tipping!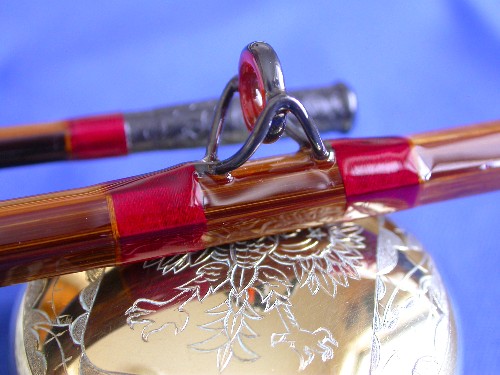 Finally, we needed a catchy name for this rod. Bob's a guitar player and years ago we did a rod for him we dubbed 'The Telecaster', so the naming of these rods has become a little inside joke between us! I also got a little carried away with the engraving, having decided that it would be cool to have the caps of the rod case engraved!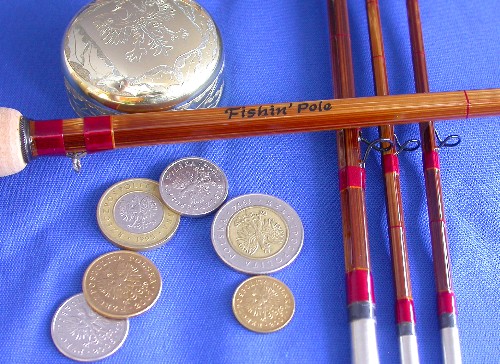 ---
Mason-Griffith Trout Unlimited 2007 Special Commission
We were proud to be asked to lend a helping hand for the Mason-Griffith Chapter of TU, the first TU chapter ever established. This fundraiser was established to aid in conservation efforts along the famed AuSable river in Michigan, and if you've ever been there you'd understand why we were eager to get involved. It's an incredible resource, and I've got a lot of very fond memories of fishing there, particularly during the Hex hatch.
We had a lot of help in putting togther this package. Arne Mason agreed to make rod and reel cases, Ted Godfrey provided one of his fantastic reels, and a Terenzio silk flyline rounded it all out.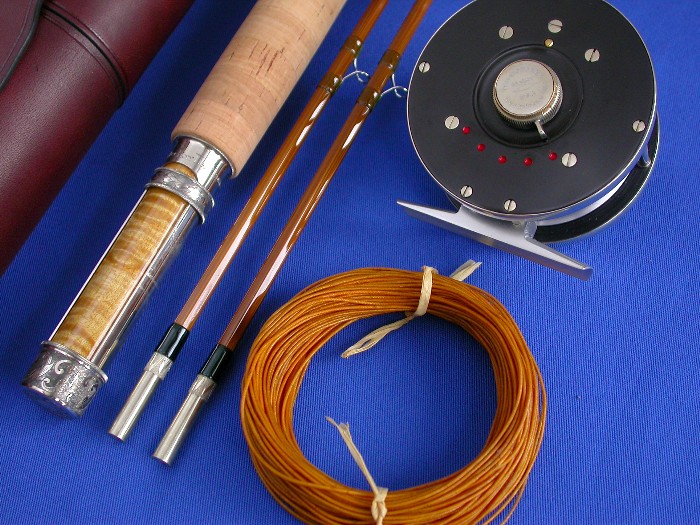 The enraving on the CSE nickel silver seat featured an angler in an AuSable drift boat, the stream and pines in the background.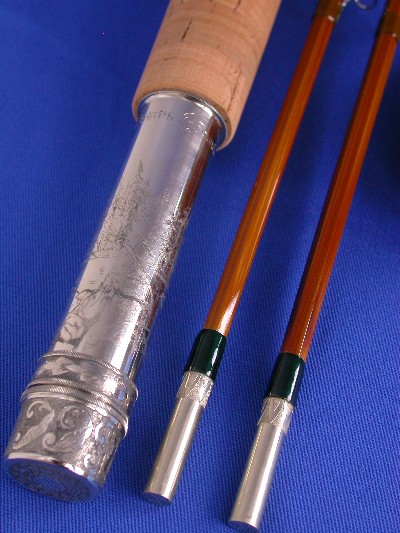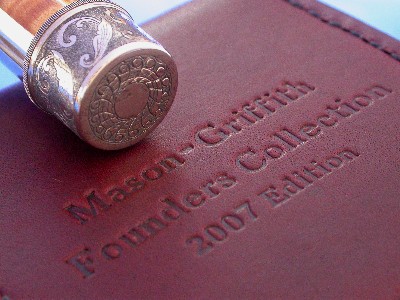 The wraps were done in a deep forest green, with lighter fern color wraps at the guides. We'd like to thank the Mason-Griffith Chapter for inviting us to get involved.
---
Ebony, Amboena, and More Ebony
Every so often, we see a sudden flurry of Presentation Rod orders, and it seems like every one features spliced butt construction.
The first was for a quad. The owner wanted a 7'9" 3-piece, 5 weight quad, with an ebony spliced foregrip. I've made a number of rods with ebony spliced foregrips, but this was the first one I've ever seen done in quad configuration. A special twist occured when the owner asked if he could have a rattan grip. As I began turning down the substructure that forms the grip, I had what I thought was a novel and cool idea: why not make the grip a rounded square shape, to mirror the quad rod itself?
At first it seemed like an easy thing to do, until I got to the point of trying to figure out what I was going to do with the winding check! The quad butt section flows into the spliced forgrip, turning the quad into an 8 sided rod...then the grip was a rounded square. How was I going to form a winding check to make it all come together? The answer came by having a special winding check made on an EDM machine, and then hours patiently sanding and buffing the roughed-out check. What seemed like such an easy idea turned into hours of work....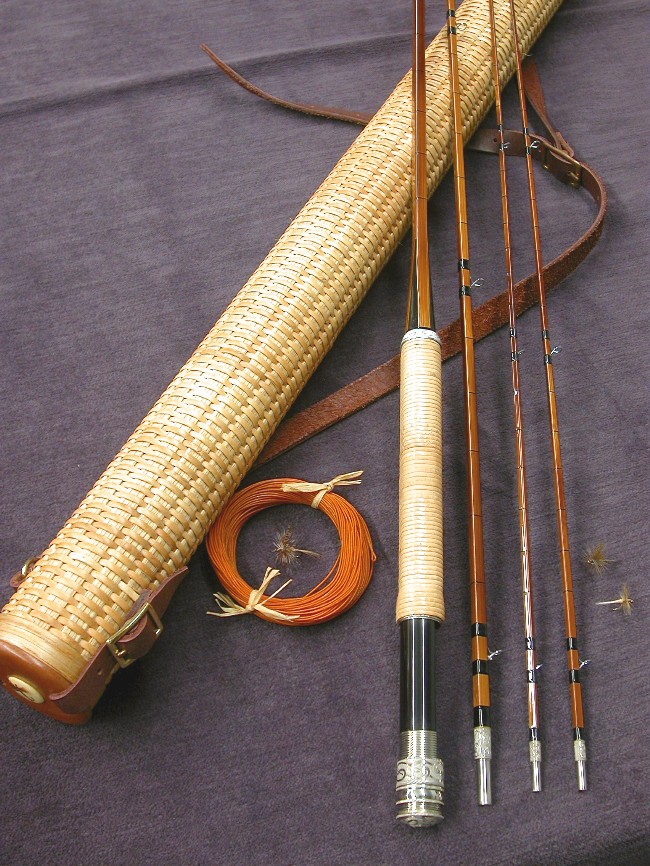 The next was a similar quad, made for friend and fellow rodmaker Wyatt Dietrich.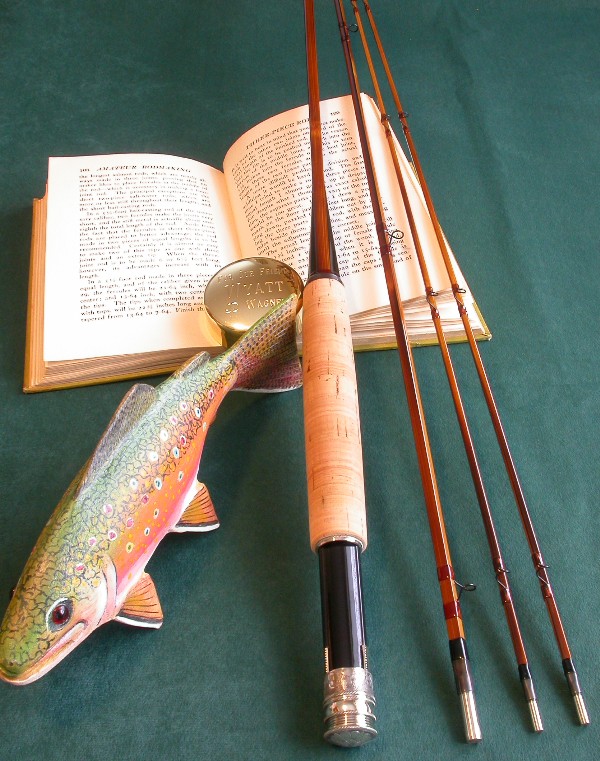 Next came a pair of rods. The owner wanted both to have spliced forgrips in amboena to keep the theme consistent between the rods.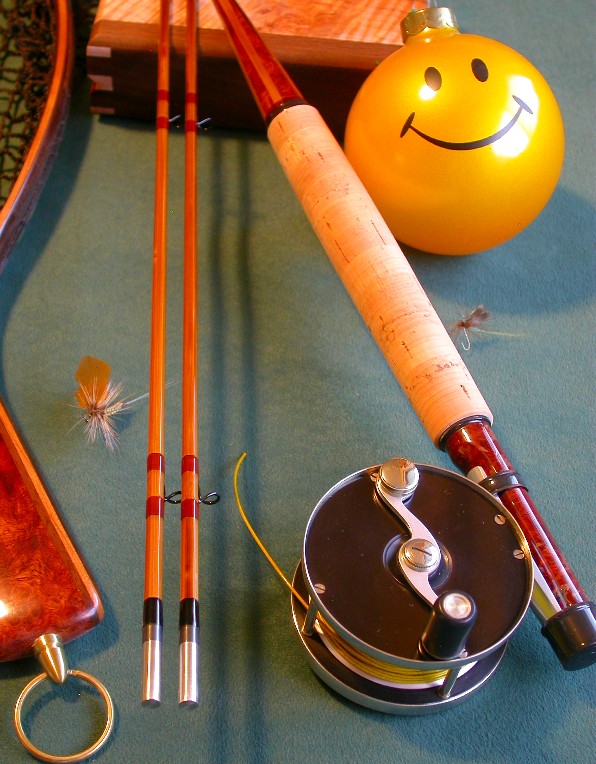 The first rod was a little 6'3" rod for small stream use. The second an 8' 5-6 for larger water.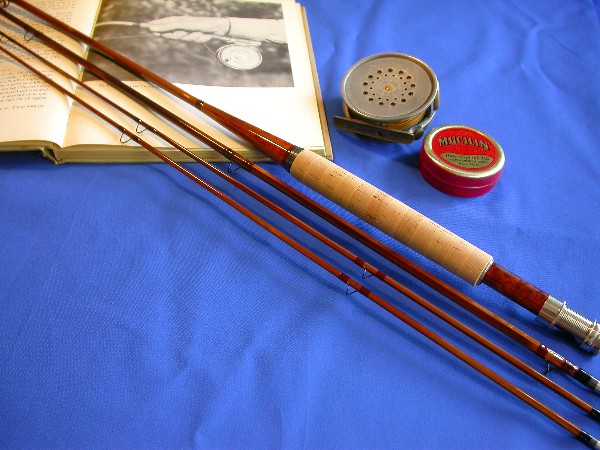 Here's a closeup of the spliced foregrip.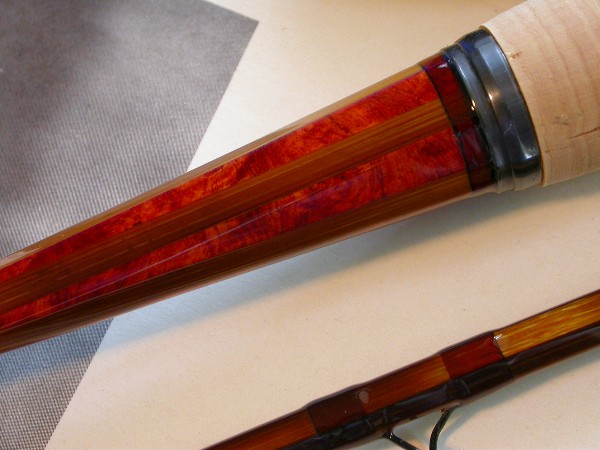 I'd have to say that after making a slew of these, I came to appreciate getting back to making 'normal' Signature and Patriot rods! There was another spliced rod, recently delivered, that I made for my friend Charlie Walton. The splices were in bird's eye maple, and were such a bear to cut I didn't want to take pictures for fear of someone else wanting one!! Never again!
Currently I have another quad spliced with ebony and also a mahogany Presentation rod in the works like in the photo below, and I'll post pictures as those are completed.
---
Custom Spinning
It's always an honor to be asked to build a custom rod, and I do take a great delight in making an occassional baitcasting or spinning rod because that's where it all began for me in terms of fishing. This rod was for a customer that wanted to be able to fish for bass, pike and the occassional smaller panfish. Besides specifying the action, he wanted embellishments like intermediates, engraving of the reel seat and ferrules, and a lighter cane color then our typical flaming. No problem! In fact, it was a joy!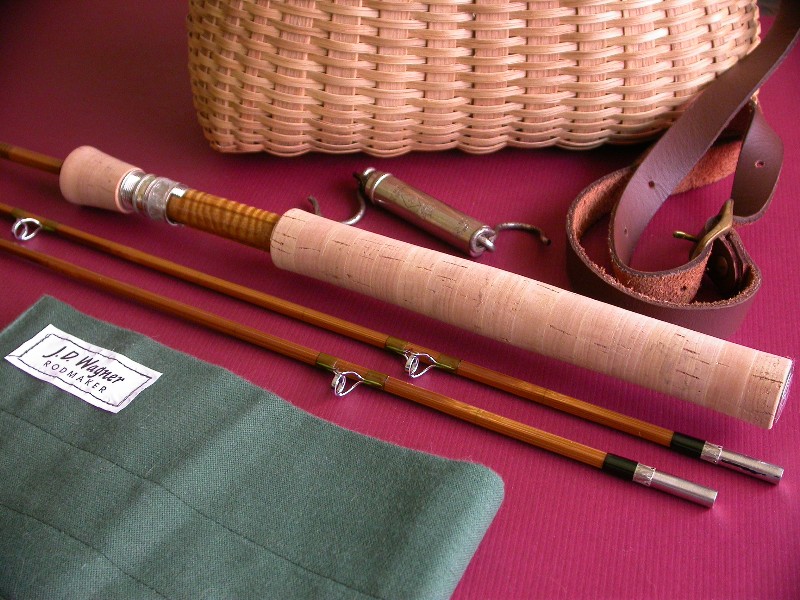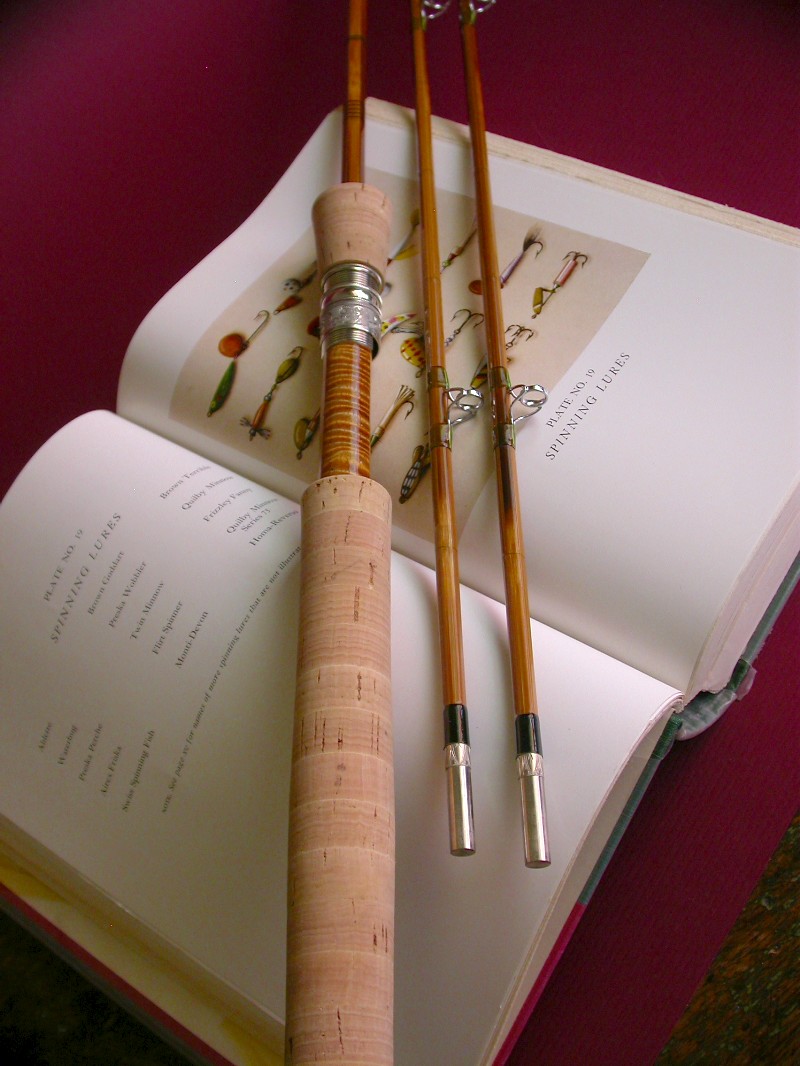 There's really no reason why the amount of attention that is put into a fine cane flyrod can't be put into a spinning or baitcasting rod. In fact, if it isn't going to be nicely done, why bother? For this rod, we chose a very highly figured reel seat spacer to harmonize with the color of the cane.
The customer also chose the silk colors...light olive tipped in black.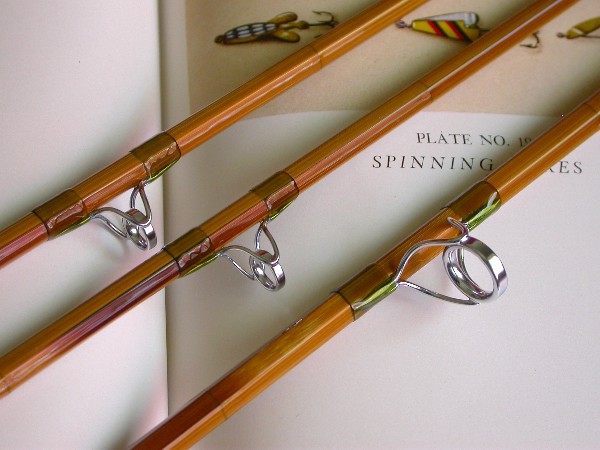 I thought the nickle silver endcap was particularly well-engraved!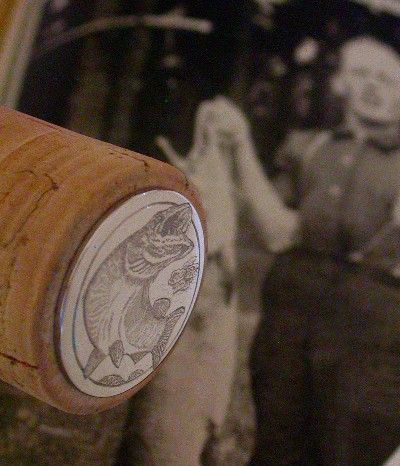 ---
Custom Salmon
Made and delivered this custom salmon rod to a friend and comrade in arms out West.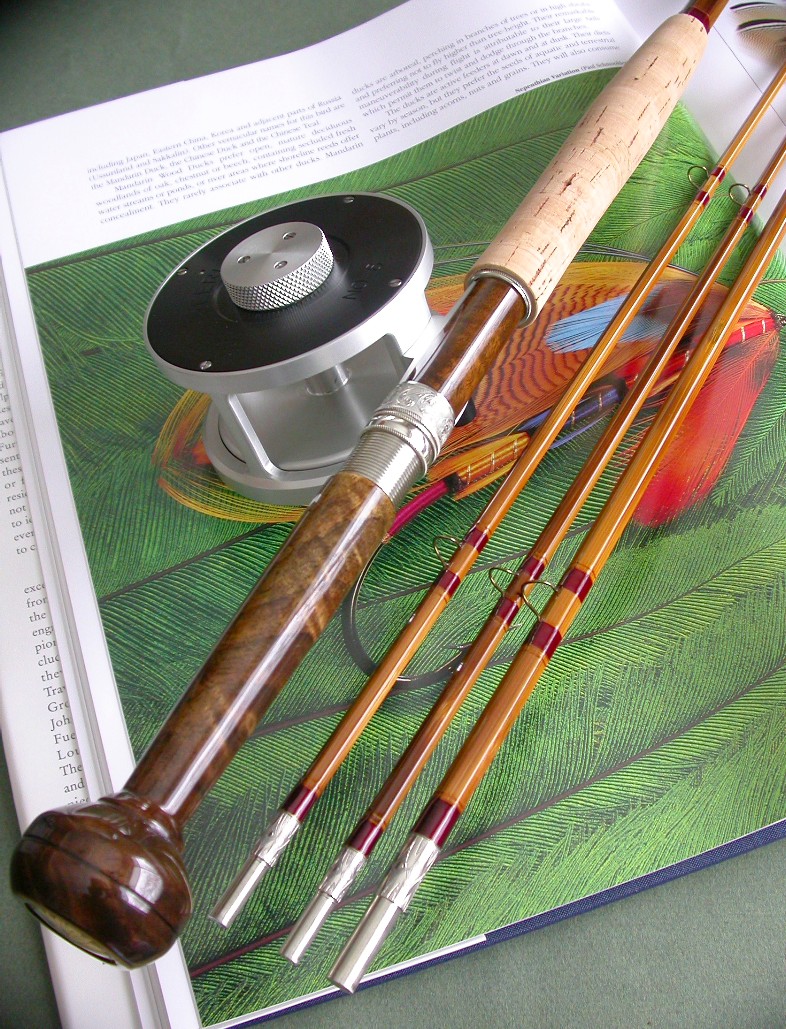 Our friend requested a detachable fighting butt, and I wanted it to match with the walnut burl reel seat spacer he had also requested. I've had a very nice slab of Claro walnut sitting in the shop for years, and figured now was the perfect time to use some of it!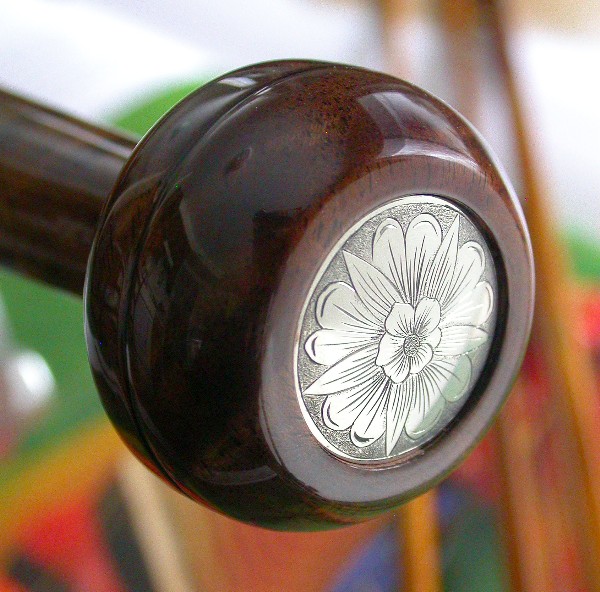 I decided to use a removeable engraved endcap, but to also inlet the end of the fighting butt for an engraved plate. The inletting allows the plate to sit below the level of the wood so that the engraving doesn't get scratched over time and use. The fighting butt was varnished by hand with 5 coats of spar varnish and carefully rubbed out....the depth of the finish is mouth watering, and the pictures don't really do it justice! The end caps of the reel seat, fighting butt, reel seat slide band and ferrules are all fully engraved.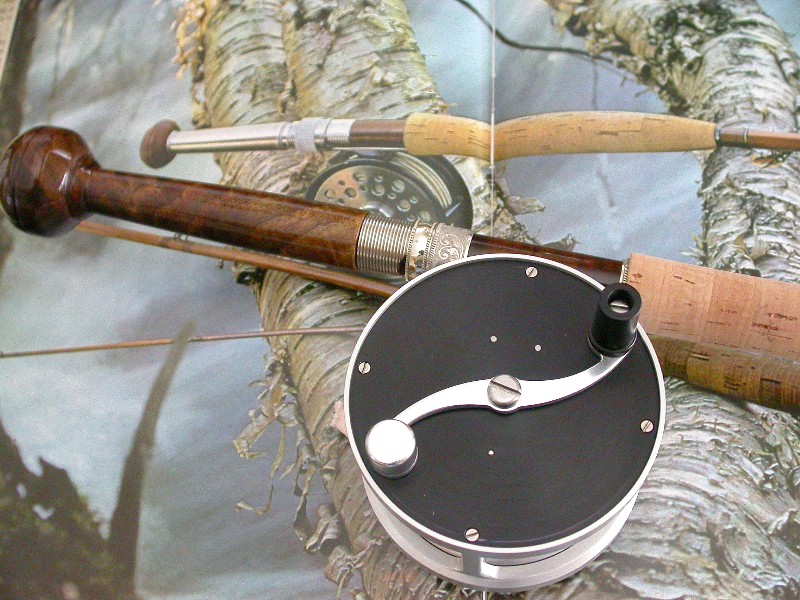 The general shape of the fighting butt is a bit of a homage to Gillum salmon rods...there's one in the background picture (above)from a chapter titled "The Ultimate Fly Rod" from the American Sportsman Treasury. The Gillum rod's fighting butt has nice proportions, but like a lot of rods from that era the end cap is a piece of rubber that looks like a pad taken off a chair leg! Anyway, the book was given to me as a Christmas present from my parents in 1975, so here I am 30 years later, building rods like the ones I drooled over as a teenager! I just felt like there was a certain symmetry to that....
I think this rod exemplifies some of the differences between classic rods of the past and the best rods of today. Instead of a piece of prosaic, straight grained walnut like that found on the Gillum, rodmakers today work in some of the finest exotic woods they can find. And no builder of Gillum's day would have spent the time to hand apply 5 coats of varnish to a fighting butt, and used such a nicely grained piece, and spent even more time rubbing it up to a perfect gloss...not to mention the engraving work. And I'm happy to report that unlike the Gillum rods, there's not a nasty glue seam to be found in this one!
The wraps were also done by customer request: a deep burgundy double-tipped in gold silk, and the rod also features a TT style swelled butt that measured .550 under the grip! If it seems like I'm a bit proud of this rod, well, I am! It was delivered in less then a year's time- long before promised- in keeping with our desire to deliver our work on time, every time, a promise we've never failed to keep.
Here's the closing line from the chapter in the book cited above:
"The trade cannot possibly survive; the rods, and the tradition, do."
The trade does still survive, thankfully. Of course the rods today are considered as much art as fishing tool, and they are not cheap. Then again, good rods have never been cheap.When my parents gave me this book I was 13 years old, and I'm certain they had dreams of me going to medical school. A couple weeks ago, my mother got a bill for her surgeon's fee for her heart valve repair operation (Three hours, $17,000) and called to tell me I was in the wrong profession.
Nah! But parents should be very careful about what your kids might be reading.....
---
Loving Couple
While not exactly a 'matched pair' we utilized certain cosmetic features on both rods: engraved reel seats and ferrules featuring the intitals of the owners, delicate olive green transluscent 3-wrap intermediates, matching guide wraps delicately tipped in black, ebony reel seat spacers.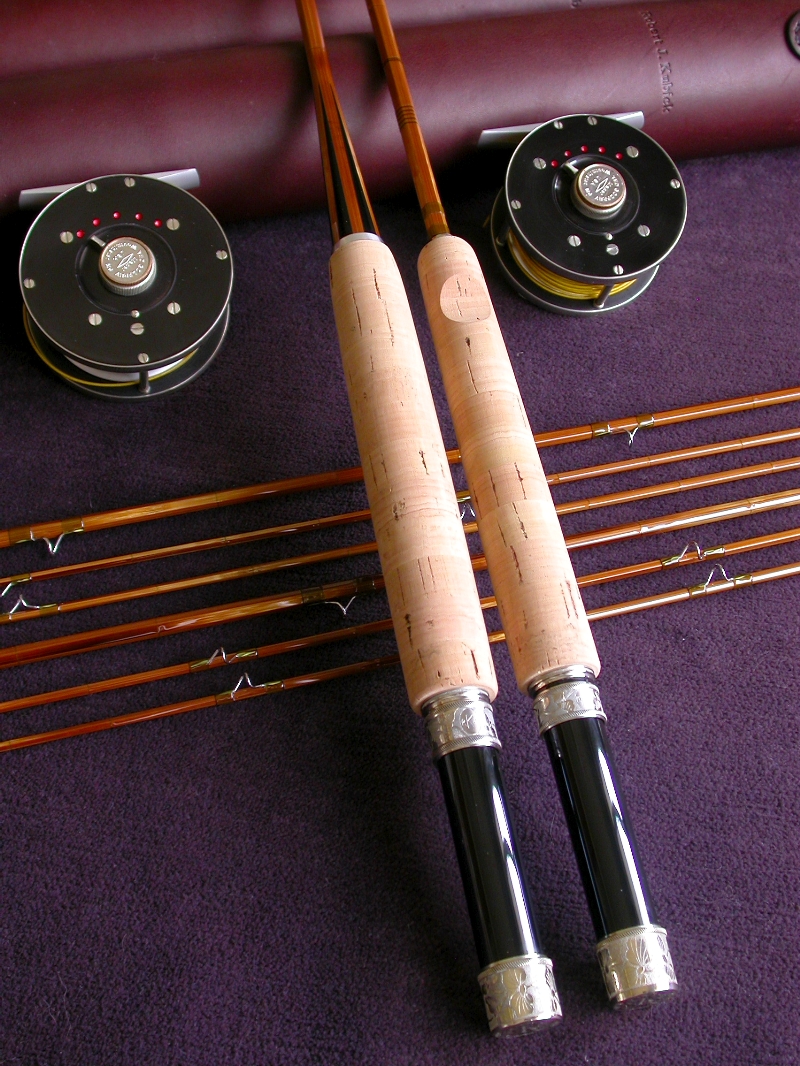 Both rods were paired with the appropriate sized reels by Ted Godfrey. The classic black sideplates of the reels matches well with the ebony, don't you think? The rod on the left also featured a spliced and swelled butt with the splices in ebony and was a 6'9" 3 wt. The rod on the right is a 6'3" 4 wt and in place of the swell I used a delicate signature wrap.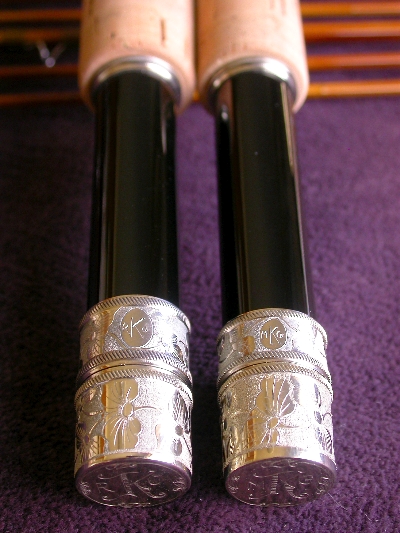 In addition to the Godfrey reels, these rods were paired with matching leather cases by Arne Mason. Doesn't get better then that!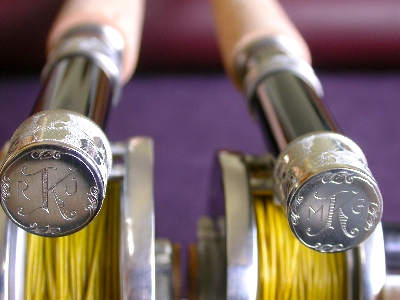 We love doing this type of work and invite your inquiries!
---
More Ebony!
When we are out exhibiting at shows one Presentation Series rod continues to always get a lot of ooohs and ahhs, our 1999 Ebony Presentation rod. I think what appeals to people is the contrast between the rich tones of the cane and the black ebony. I swore at the time that I'd never build another, but last year when we were featured in The Art of Angling we received numerous requests to build more of them, and so here's the first good pics of the latest.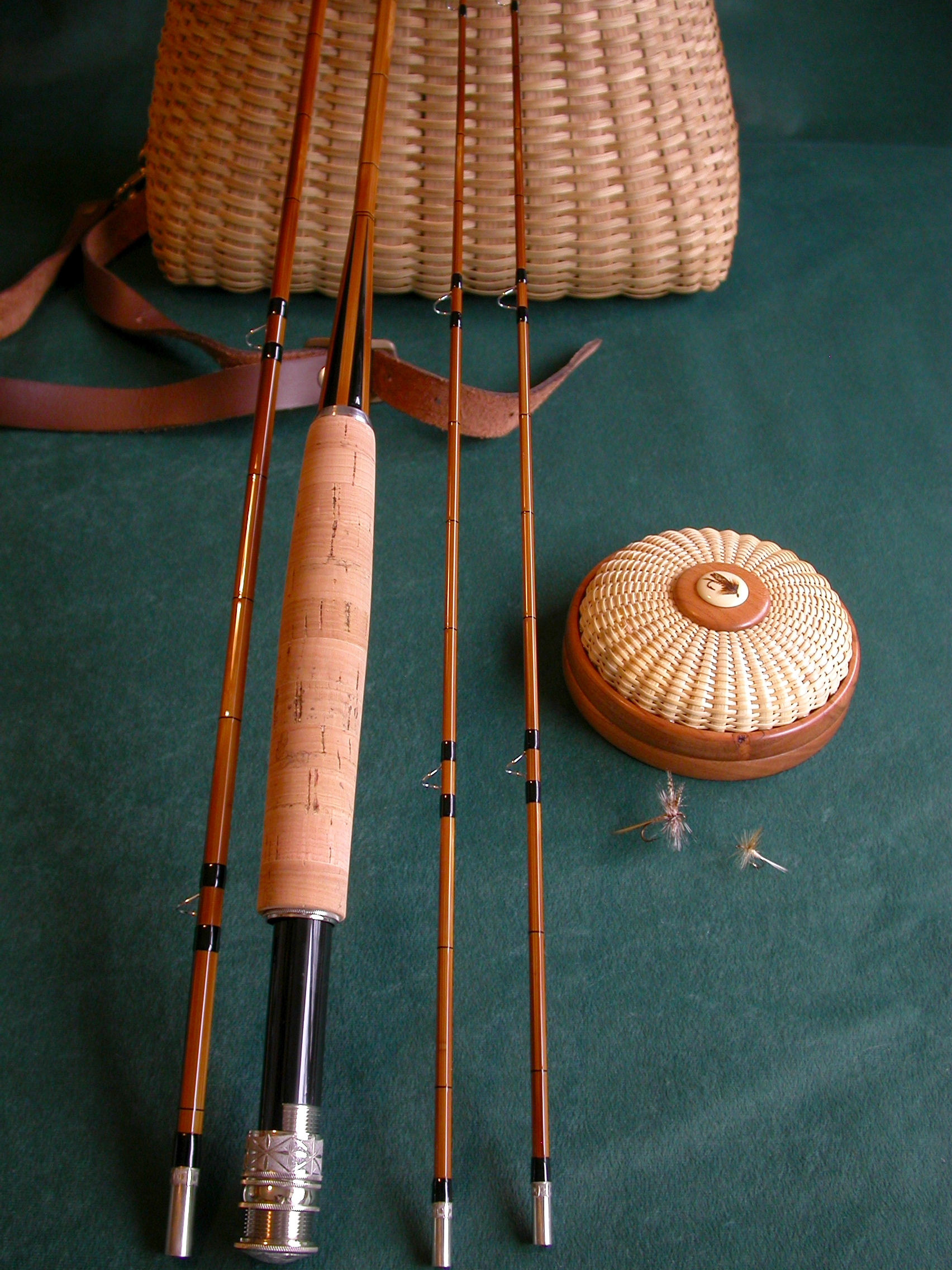 Like the first rod we built in 1999, this one features an ebony spliced foregrip, engraved ferrules and reel seat, ebony reel seat spacer and black intermediate and guide wraps. Here's a closeup of the spliced foregrip.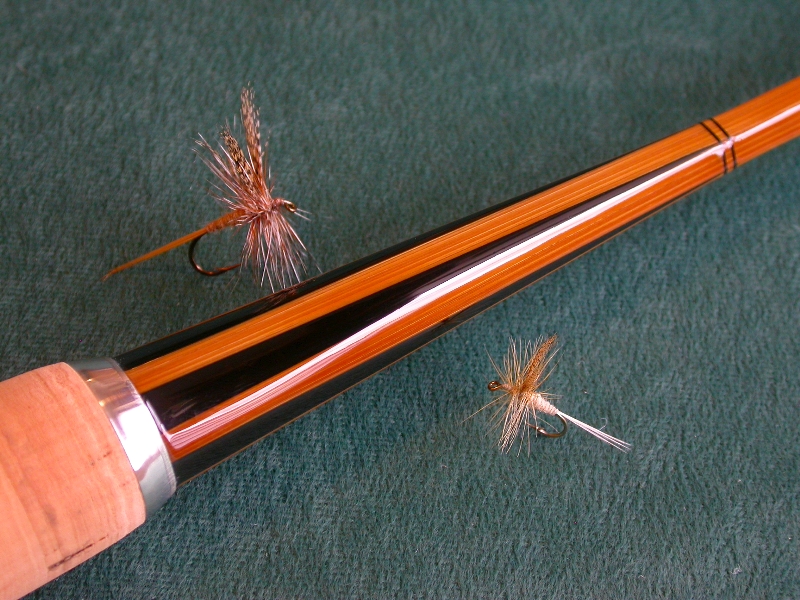 This Spring I'm building two more of these rods, so stop back to see how they look. Here's a pic of the engraved encap.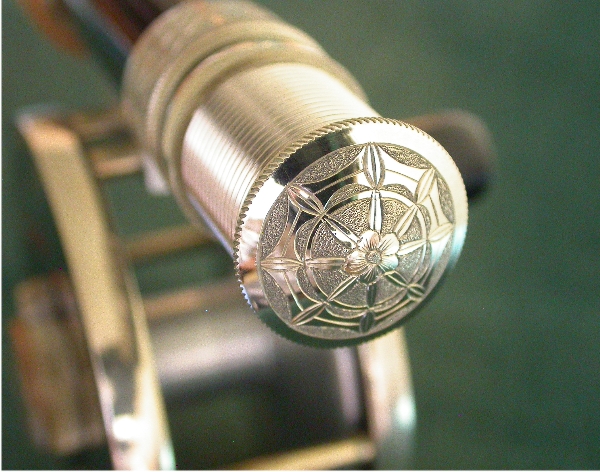 ---
2004 Amboena Presentation Rod
Last year a good friend and customer asked if we could make a spliced butt rod similar to our 2002 Presentation Mahogany rod. Actually, what he really wanted is a 6-sided mate to his Quadrophenia Rod(see pics below), but I've got to tool up special for that one...and since that rod was the most difficult one we've ever done, the 6-sided version promises to be a real bear to execute. In the meantime, he'll have to be content to fish this one instead.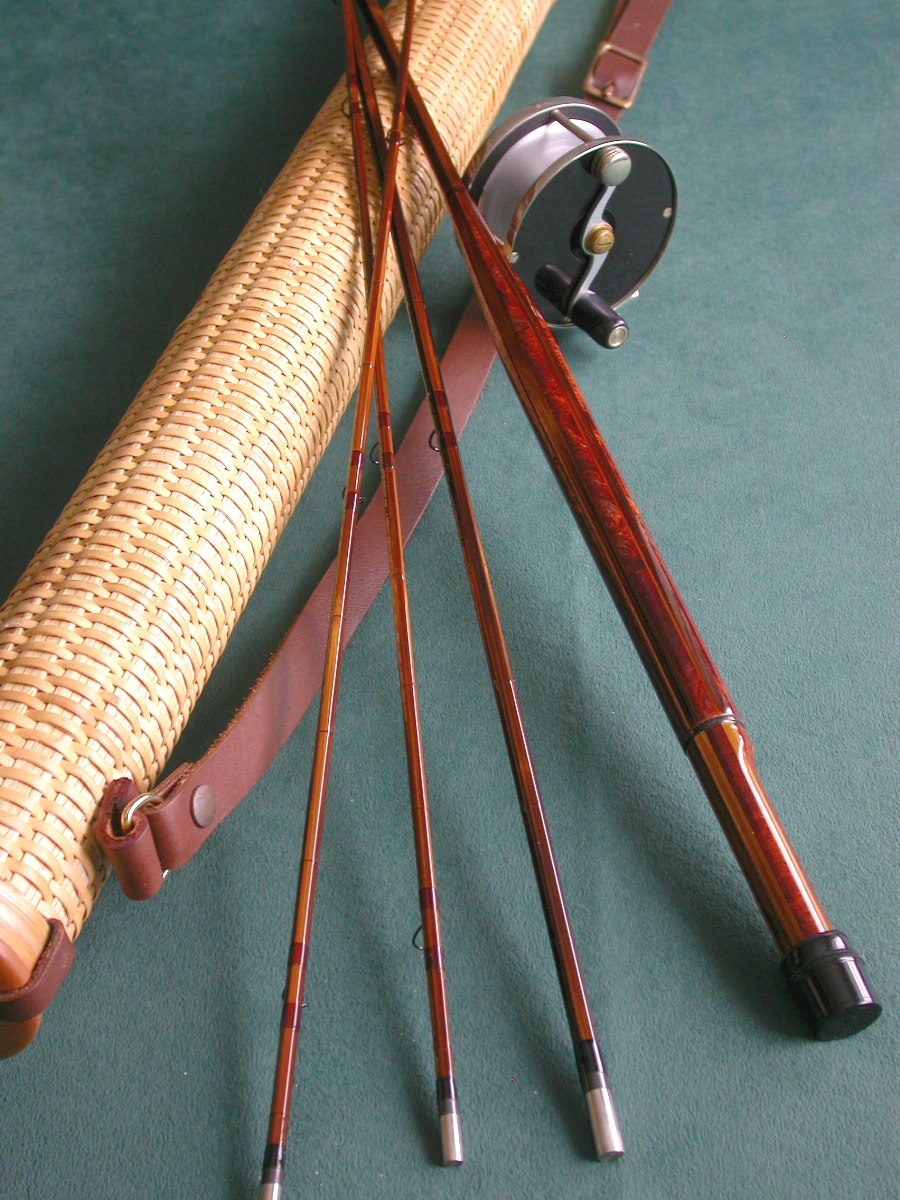 We are using amboena for almost all of our reel seat spacers on our Singature Series rods. It just goes beautifully with the tones of flamed bamboo and also our standard wrap color which is a deep reddish-brown color. This rod also has our delicate 3 wrap intermediates.

Three of a (Perfect) Pair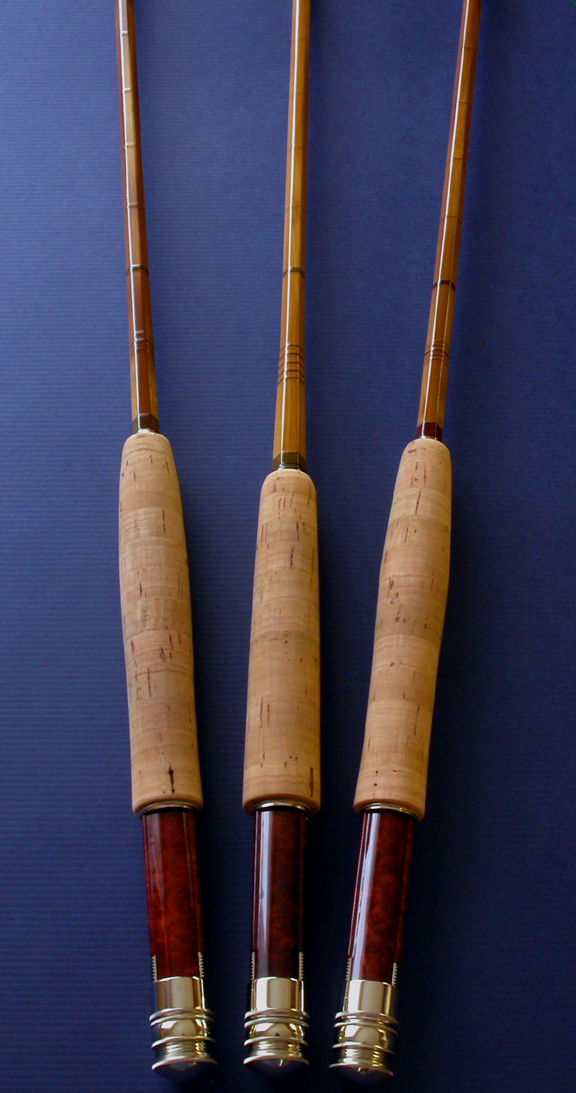 We made this set of three rods for a father, son and friend. I chose to title this section from a song by King Crimson, Three of a Pefect Pair, that kept running through my head as these were built.
These rods are represent the fine line between our Signature Series and Presentation Series rods. These were somewhat 'custom' in the sense that they have step-down ferrules, modifications to our cataloged taper, intermediate and signature wraps, grip shape and length variations...all details specified by the owners. We love doing this sort of work, and invite your inquiries.
All three rods were made from two culms of bamboo with matching node patterns. The rod in the center is somewhat lighter in color then our typical work, with a sudden T&T/Heddon-style swelled butt....details again done at the request of the customer. In addition to matching node work between the rods, the butts and mids of each section are also mirror matched to each other! In this picture, the rod with the large swell is on the right. The owner specified a lighter colored agate, and we chose a nice caramel colored one to harmonize with the color of the cane.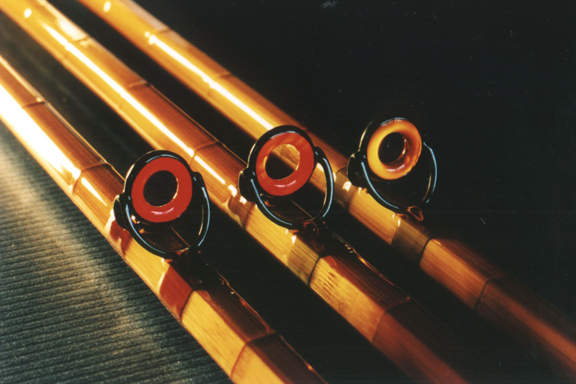 Two of the rods had olive wraps tipped black, the third our 'normal' reddish-brown tipped black. The delicate three wrap intermediates are placed identically on all rods, but the signature wraps vary. The father/son pair have identical signature wraps, but using the same pattern on the swelled butt rod would have not been as pleasing to the eye because the proportions of wrap to rod diameter are not the same.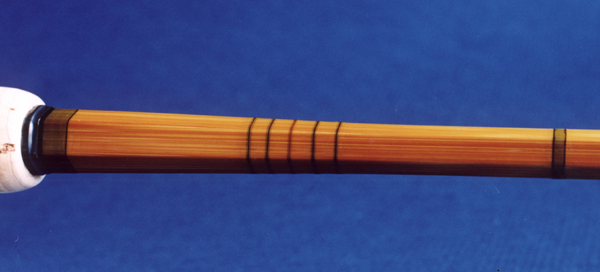 You may also notice these rods are not 'signed'. To me, nothing detracts more from a rod with nicely done and intricate signature wraps then cluttering the area in front of the grip with writing. Yuck. It's just overkill, because when a rod is well done the signature of the maker is the rod itself. In this case I did agree to serial number these rods, which is another thing I don't normally do for rods of this type as they are all quite unique and well-documented.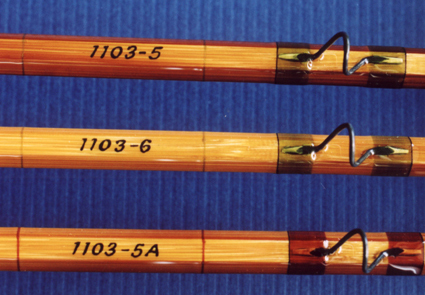 We are so gratified to receive orders like we did for these rods, as we feel it represents a level of trust and honor to be chosen for such a project. Within a few hours of the arrival of the first rod, we received an email:
Hello my friends. The Hunt was delivered at 8:00 pm last night. I am going goose hunting today and pheasant hunting on Friday so I won't have the opportunity to cast the rod until the weekend. However, I didn't want to delay expressing to you both my gratitude for your exceptional workmanship. The rod's aesthetics are impeccable. It is as elegant as any Tom Dorsey creation, and I can't think of any higher praise. I almost took it to bed with me last night. The money I paid is hardly adequate compensation for your artfulness, talent. and professional integrity. I am grateful to you both. Best - R.B.
---
A 2003 Presentation Rod
We have now posted some pics and description of a very cool new Presentation Rod. We've tongue-in-cheekly dubbed this project the Sans-a-Bitch. Click on the picture of the butt cap to see how it was built.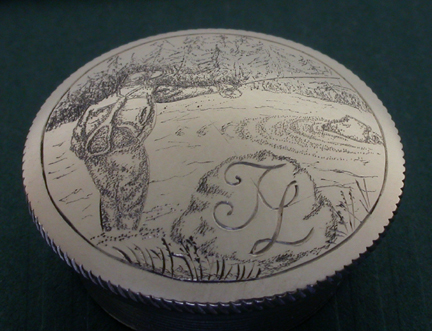 ---
June 2003 'Brookie Rod'
We just delivered this rod to our new friend in Augusta, Georgia. He was looking for a rod to fish the small upstate brookie streams and we decided our 6'3" 4wt. would be a good fit for that type of fishing.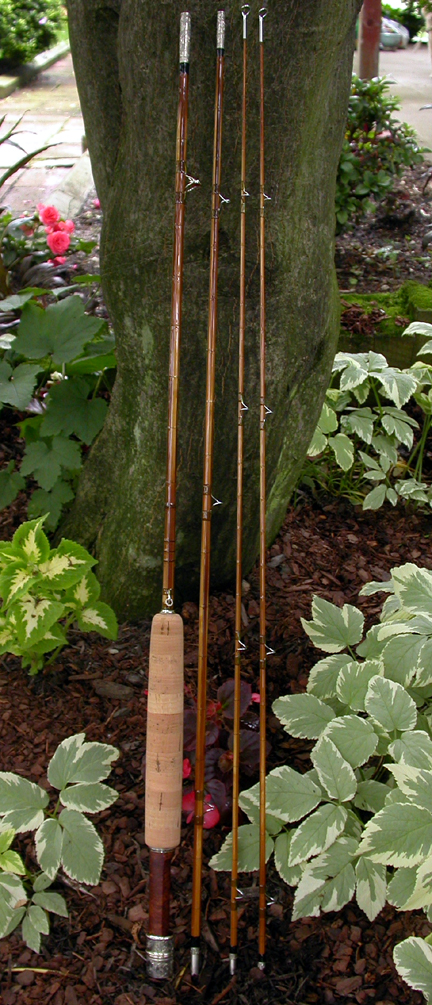 In consultation with the customer, we decided upon olive silk intermediate and guide wraps delicately tipped in black. Olive is my favorite silk color for such a rod as it's reminiscient of the deep green, moss-covered rocks along brookie haunts. We further enhanced the rod with Rose and Scroll engraving of the ferrules and reel seat hardware.
Before shipping the rod I found a nice moss-covered rock next to our pond for some closeups.
We also chose an amboena spacer, which has also become our primary reel seat wood. The deep red-brown of this wood, and it's intricate grain patterns harmonizes well with dark cane.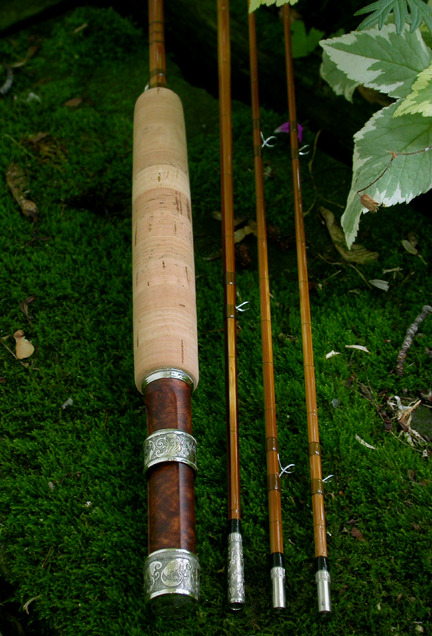 A couple days after delivery we received this email:
Casimira and Jeff - I received the rod on Friday and it is just perfect.
Words can not express the beauty of the rod. I have not had a chance to
really cast it yet and put it thru its paces, but I was able to lawn cast it
yesterday for a few minutes and it is incredible. When I return from the
beach, I plan to take it to my favorite brook trout stream and put it to
good use.
Also, I would very much like to have you build a twin "Hunt" model. Just
let me know what I need to do to work that out. Thanks again for the
"Brookie Rod", it is really a piece of art.
A very grateful fly fisherman
Casimira and I are always so gratified to receive mail like this. Building rods is a joy and we love every aspect of the process. From initial consultation with the customer to ascertain what they consider to be the right rod for them, through updates as building progresses, through all the steps until delivery- and making friends in the meantime. Many thanks to everyone for their patronage!
---
Christmas Presentation Rod
For want of a better name, we decided to call this the Christmas Rod. A gentleman from MO called us after seeing our work featured in the July/August issue of Worth Magazine and we discussed some possibilities with him. We received his deposit check on 7/18/2002 and quoted him a 5 month delivery time. Today, 12/23/02, we shipped the rod overnight so he could have it under his tree at Xmas...within days of being right on time...I only wish I could plan my personal life so well!
This customer wanted some special detail work in his rod: full intermediate wraps, fully engraved reel seat and ferrules, an amboena foregrip and an amboena extension butt with an engraved endcap. As the rod was nearing completion I had it laid out on the forrest green rod bag and the color of the wood, wraps and bag just had a nice Christmas feel to it.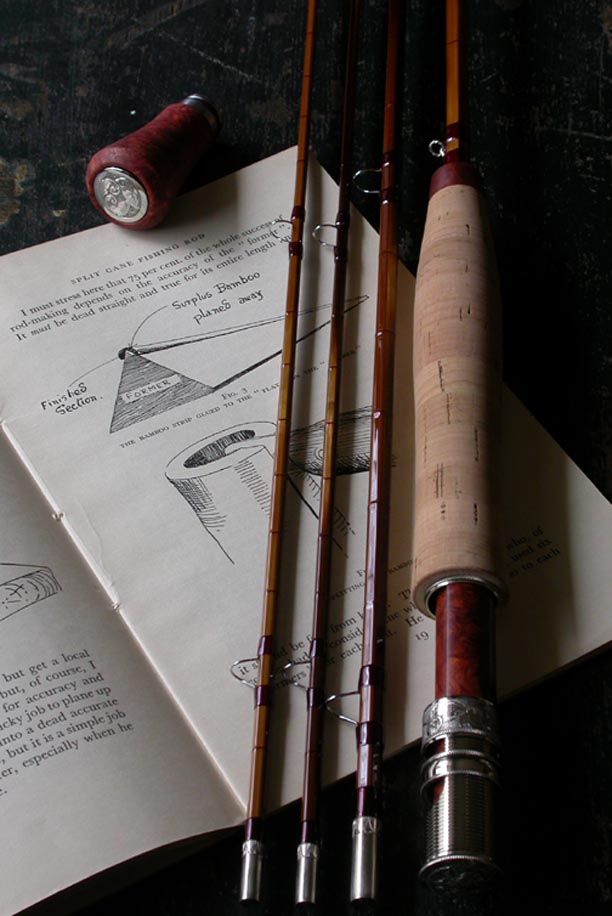 Here's a view of some of the hardware: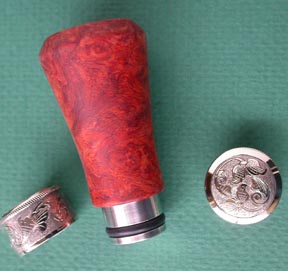 A nice closeup of the removable buttcap: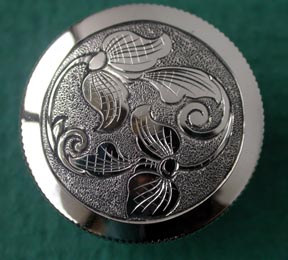 The amboena extension butt was fun to make, and I built it so that there was a slight recess in the wood to prevent the cap from being scratched while in use. This is a closeup of the amboena extension butt with engraved end cap.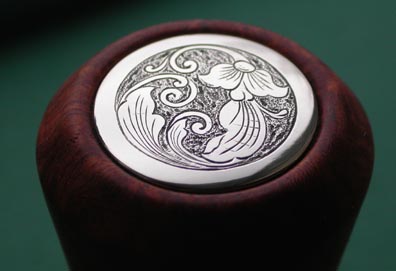 As always, we thank the gentleman for his order! At this time of year we all count our blessings, and we are fortunate that customers continue to keep us busy and challenged. Thanks!
Mahogany Presentation Rod
This spring was a bust for my fishing dreams. It seemed that every time I could find some daylight to get away for a few days, PA and NY waters were at flood stage. In some ways this was a blessing, as the situation in the Catskills with water levels was looking very bleak around the first of the year and entering into spring season. But then came May, and the rain just never seemd to stop.
I took a trip over to visit my friend Jonas at the Feathered Hook, hoping to get a few days of good fishing in on Penn's and Fishing Creeks, but within a day or so the rains started up again and I was heading back home. As May was looking so bad I began to get that sinking feeling that this was just going to be one of those years and I might as well just take a Zen-like approach to it: the weather was gonna do what it damn well pleased, and there was no sense in getting all worked up. So instead of running to-and-fro hoping to hit some fishable water I figured I'd do the next best thing, which was to take a little time to build something special. As I enjoy building almost as much as fishing, this constituted my Spring leisure time.
This rod was inspired by an F.E. Thomas Mahogany rod that a friend brought by for me to examine. I was hoping to acheive the beautiful rich color of those rods and incorporate the use of mahogany into a spliced butt rod similar to some of the rods we've done before(see pics below). This is how she came out.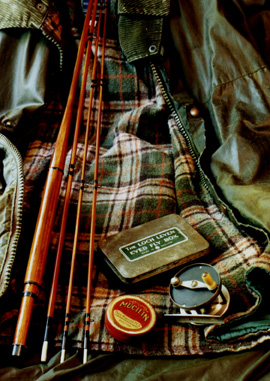 The rod is a deep reddish brown, and the spliced mahogany/cane grip forms the swell, handle and reel seat. The hardware is all blued and in this instance we used Bailey Woods/CSE step-down ferrules to keep the profile of the rod sleek and understated. For guides I chose some very old and diminutive, reverse-twist, bronze-coated snakes. The silk wraps were done in black and the overall look of the rod is one of understatement.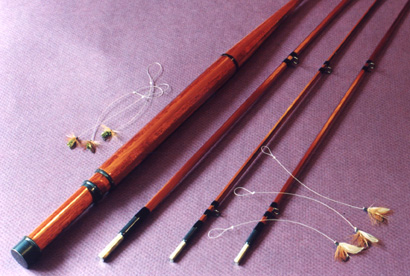 This 7 1/2 ft, 4-5 wt. rod has been packaged with a fine leather case by Arne Mason and is now sold.
---
Quadrophenia Presentation Rod
As always, we were looking to explore a new frontier with a never-before-attempted rodbuilding technique. Because we have added quadrate rods to our lineup, this provided a natural opportunity to do something very different from our past efforts and work in a 'new' idiom.
The rods we've built over the last several years have focused on different swell/grip splicing combinations and although these can be rather difficult, it would have been too easy to make a modification or two and repeat the same theme. As Norman Maclean wrote in A River Runs Through It:
"...all good things-trout as well as eternal salvation-come by grace and grace comes by art and art does not come easy."
But what to do? After 130 years of cane rodbuilding, it seems like every rodbuilding technique has been done before: swelled and spliced butts, nodeless construction, various numbers of strips, twist rods, etc. I gave some thought to doing something along a nodeless theme, but that's been done to death. Beyond the challenge of producing a few rods in this matter efficiently-building them as quickly as a rod with nodes-there seemed little point in going that direction. And a simple quad seemed so 'ho-hum', even with nodeless construction or a swelled/spliced butt section. Big deal.
The idea of doing something with splices was intriguing if something unique could be devised, and if it was sufficiently challenging to make the attempt worthwhile. Given the difficulties posed by this project, I found a suitable challenge. What I decided to build was a quad with alternating flamed and blond strips, but executed in a different and unique way.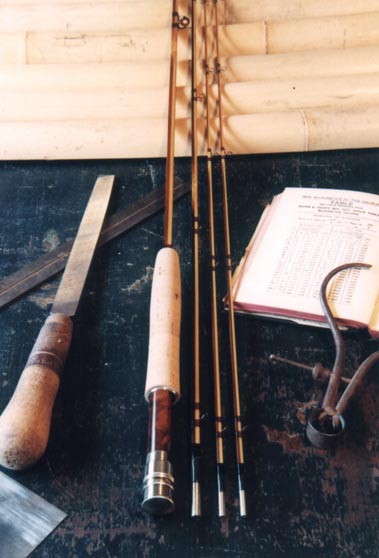 Quite a while back I saw a rod catalog with a rod for sale that had alternating strips of flamed and blond cane. The stated rationale for this configuration was to 'dampen lateral vibration', but I suspected it had more to do with having a few extra strips of blond and flamed cane laying around the rodbuilding shop. Waste not, want not. But simply laying out strips to produce alternately flamed and blond flats is neither new nor difficult.
But what if the rod could be made with alternating flamed and blond strips on each flat? Well, that is a whole different ballgame. So that's what this year's project is: a quad rod with each flat composed of a flamed side and a blond side. As you eye down each flat on the rod, one half of each strip is brown, the other blond. At the corners of each flat the adjacent half flat matches, so a flamed 1/2 strip is mated with another flamed half strip and so on. Here's a closer look just in front of the grip: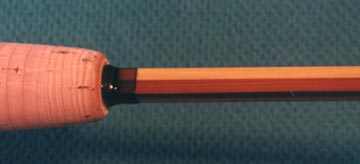 Consider that a typical flat of a quad may be only ~.050 wide near the tip and therefor each side, flamed and blond, would be half this dimension in width! This photo gives you some idea of the sizes involved. The dime is to provide scale.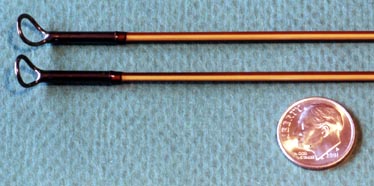 It sounds very, very simple. And the look of the rod may not elicit the oohs and ahhs that are normally received when we build Limited Edition rods. But make no mistake: this was much more difficult then any other previous projects and represents a quantum leap in conception and execution when considering the difficulties of producing such a rod.
(UPDATE 2/2002) I had originally planned to build two of these rods and have the first ready by Spring of 2001, but it was so time consuming just to get it to the blank stage...then came the Spring order rush, then fishing, then Summer Rodbuilding class sessions....You get the idea. Finally I decided on the more prudent course of just building one of these, and it will be the only one we EVER build! Also please note: A rod is normally a very difficult object to photograph- it is very long with wide spaces that don't feature much visual interest or detail. This rod was very hard to capture with pictures because of the contrast between the spliced strips, and because at the corners, where the strips are matching in color, almost no contrast.
I am very pleased with the results, despite the long hours in this project. I would guess that I have about 3-4x the number of hours in this rod then a conventional rod. A number of people that have seen the rod didn't 'get it', but other rodbuilders were blown away by it and there is nothing better then high praise from one's peers in the rodbuilding world. Quite a few people, including builders, looked right at the rod on the table during show season and didn't think twice about it until they looked a bit closer.....which I think is cool because despite the description it isn't a gaudy rod by any means. Tom Dorsey of Thomas and Thomas was very complimentary and the many compliments (and head shaking awe) made all the effort worthwhile.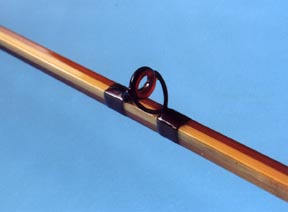 The rod is a 7 1/2' 5 wt., medium action. In three piece design it packs down to about 30" in length. We used a light brown silk that harmonizes well with the cane colors, as well as a spectacularly figured piece of walnut burl for the reel seat spacer. The light and dark tones of the wood are an ideal compliment to the cane, and the depth of the varnish on the spacer just makes the figure glow. The ferrules have been broached to a square shape as is customary for Quad rods, and are oxidized a deep black color. On the whole, the cosmetics are understated in order to not detract from the cane work. The rod comes in a beautiful leather Arne Mason case with a brass tube liner.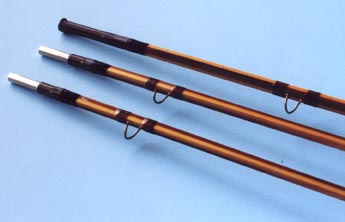 I spent many very late nights in the shop on this project, alternately elated and frustrated with the challenges that it posed. The dual nature of my feelings, along with the idea of a quad with a 'split personality' brought to mind the name Quadrophenia, from the album and movie by The Who.
---
Santa Fe Presentation Rod
There is a book I often pull from the shelf for inspiration: The Collector's Guide to Antique Fishing Tackle by Silvio Calabi. There is a photo spread on pages 42-43 that illustrates why, in my opinion, Tom Dorsey is our greatest living rodbuilder. In the photo are several of the Thomas and Thomas Limited Edition rods that were produced in the 70's and 80's. There is simply no other rodbuilder that has come close to assembling a similar portfolio in terms of style, execution and range. In many ways these rods have become something that we look towards for ideas to expand our own humble vision.
As the photos of our past efforts show, we wanted to do more then simply offer some gimmick or copy the efforts of others, which allows us to free our imagination to do anything that might move us. The ideas for this year's rod were conceived during a holiday road trip. As I drove along the turnpike I was so engrossed over what to build next that several times I found myself wondering if I had missed my exit! I decided that I wanted to expand and combine some previous ideas in a way so they would all 'dovetail' together, and the word 'dovetail' kept coming up over and over. Hmmm. Could dovetails-the ancient method of furniture joinery-be somehow incorporated into a fishing rod? Well, why not? Here's how it came out: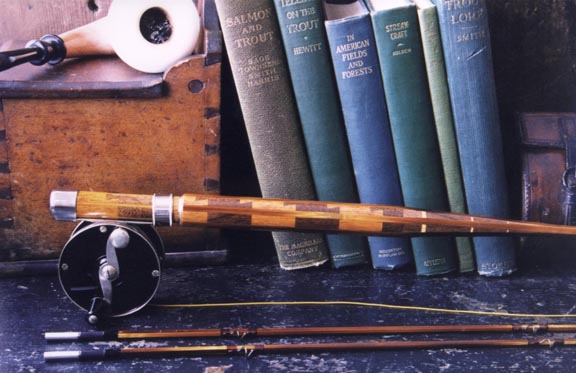 We sent out a couple preview photos to a friend, and he asked if the dovetails are 'real', that is to say, do they circle around the rod? Yes, they do.

This integral rod grip and reel seat was formed using alternating bands of American black walnut and Honduran mahogany. This idea is derivative of a one-of-kind T&T rod that used alternating bands of cork and spliced sections of cane and rosewood to form the grip. Again, we wanted to do something along that line, but not simply copy that idea. The following photo shows the evolution from previous rods we've made, and reflects a sort of 'conceptual continuity.' The rod on the left is the second spliced rod we made and is similar to the 1998 Presentation rod which found a happy home halfway around the world! That rod featured a walnut spliced grip, reel seat and swell. The rod in the middle is last year's Presentation rod that the owner graciously lent us for the photograph. That rod was also spliced, and the splices and reel seat were of ebony. This year's effort is on the right.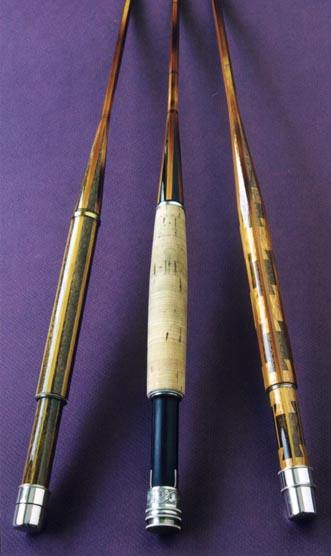 As we mentioned, we also wanted to branch out a bit and do something a little more complex with the swell/splice area in front of the grip, and experimentation with this area has given us a whole slew of ideas for future rods! In this case we decided to add some visual appeal by making some splices at an axis perpendicular to the length of the rod. This was done using bamboo laminations of various thicknesses- graduating in width in keeping with the proportions of the swell. The first splice can be just barely seen on the right side of this photo. In additon, the walnut-spliced area is flat, so the rod progresses from the hex shape of the rod blank to twelve distinct 'flats' to the circular cross-section of the grip.
In addition, there had been quite a bit of recent discussion on a rodbuilding board about how these rods are built-and so we figured it will only be a matter of time before someone decides they wish to and then figures out how to build something similar to our past efforts. Inquiries came via email asking us to disclose the construction method. Out of respect for those that have taken the time and effort to figure out how this is done, we weren't talking. In addition, we added a new wrinkle just to keep a step or two ahead of the game.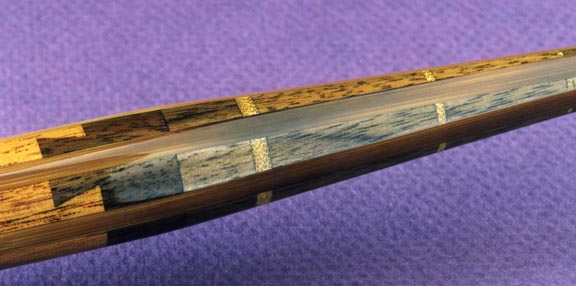 Because the main visual focus of this rod is the funky grip, all other cosmetics were chosen to be as sedate as possible. This rod features black guides and the step-down ferrules by Bailey Woods are his version of the famous Payne style. The thinner profile of the oxidized step-down ferrules, the black guides and tip-tops and sedate wrap colors(burgundy tipped black)- all were chosen to harmonize well with the overall appearance of the rod. The agate is a nice orange color that also harmonizes well with the tones of the mahogany.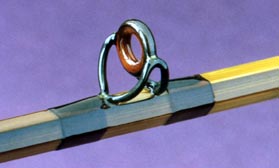 The reel seat hardware was also chosen to be simplistic and elegant. The pocketed nickel silver butt cap is by REC, and the very finely knurled grip check and slide band is by Bob Venerri.

So that's this years rod. I haven't yet decided whether to offer this rod for sale. Frankly, I don't consider this rod a practical fishing tool and have no idea how the grip area would hold up over years of casting strain. What I might do is make a second butt section like our usual Signature Series rods so that this rod can be owned both as a fishing tool and a work of 'art'. It seems a shame that one would probably 'baby' this rod or not fish it at all, and it does have a real sweet action.(It's a 7ft. 4 weight by the way!) So making an extra butt would allow it to be used on a regular basis, keeping the dovetailed butt 'for show.' One thing that is certain is that we'll never do it again!
We thought about giving this rod a name. I thought that the dovetails had a sort of Aztec flavor, but our good friend Terry Lambacher suggested the name 'Santa Fe Special.' Sounds good to us!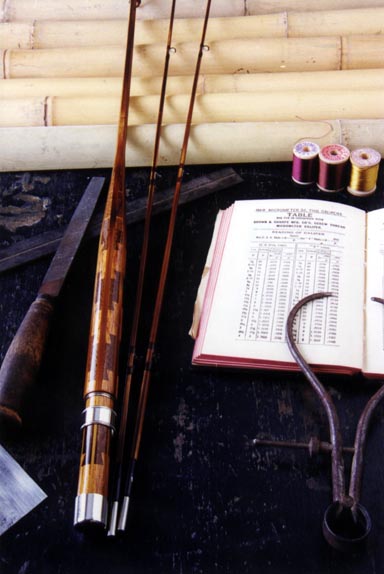 Postscript: We were commissioned us to build a box to hold both rods. We completed the box in December and the owner was kind enough to allow us to exhibit the box and rods during the Winter show season. We finally have a few pics to post of the box.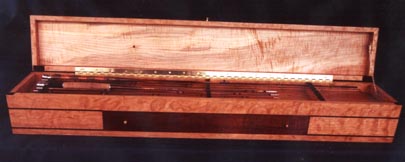 This box is similar to another we made two years ago. The primary wood is curly cherry, with a natural curly maple top and an aniline-dyed curly maple drawer. The rod supports are also curly maple. The inlay wood is purpleheart, with brass drawer pulls, hinge and lid support.
The drawer was added so that the owner could store some reels, knives, a flask, etc. along with his rods.

As you can see the lighting was a bit tricky the day we shot these photos and it's kind of a shame because the pics don't really show just how beautiful the woods are figured. The top was especially nice, with a very tight Fiddleback grain pattern. I love working in curly cherry because over time the wood oxidizes to ever-richer hues, which will accentuate the contrasting top even more as the box ages.
---
Introducing Our Ebony Presentation Rod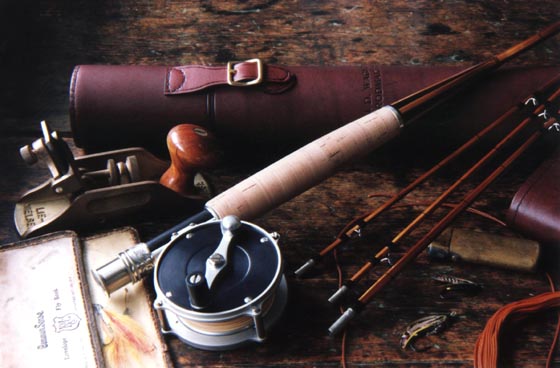 Well, this rod kept me cussing for a while but eventually came together well. Last year we made a rod using walnut strips spliced between the cane to produce a dramatic swell, integral grip and reelseat. This year we wanted to use a different wood that contrasted with the cane and decided upon utilizing ebony. This particular construction technique is nothing new, and in fact was fairly common before the turn of the century. In the old days the splices were typically made of cedar because cedar is very easy to machine- it cuts like butter.(The old timers were no fools!)
On the other hand, ebony is somewhat tougher to cut and it took us about a week to work out cutting speeds and feed rates to make the splices very smooth. It became somewhat of a challenge to our patience but we are proud of the result- as far as we know this type of construction has never been done before in wood this hard.

In addition, we wanted to spruce up this rod a bit so we had the artist that does our engraving fully engrave the reelseat and ferrules in the traditional Rose & Scroll style.

Finally, this 7 1/2 ft. three piece 5 weight rod is finished with very delicate three wrap intermediates in black silk to compliment the ebony and cane colors, with wraps at the ferrules and guides also in black. This rod comes with a beautiful English leather case by Arne Mason with an interior tube of brass. This case is in itself a work art, the fit and work at the seams is absolutely flawless.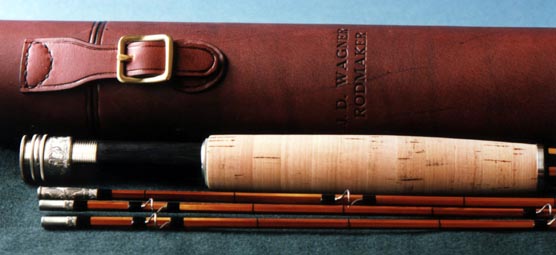 ---
Another Interesting Project

This rod was a lot of fun to build, and is the result of a collaborative effort between the rod owner and ourselves. In the summer of 2000 he approached us with a unique idea: would there be some way to incorporate some diamonds he owns into a custom-made cane rod? He had already settled on the taper, our 8' 4-5 wt. taper based on an old F.E. Thomas, c.1920. This is one of the rod tapers we utilize that Ed Engle featured in his article on us in Angler's Journal.
My first thought was to inset the diamonds somewhere in the reelseat, but the customer had the idea to use a wooden ferrule foregrip.....even going so far as to send a very well made drawing of his his idea. Originally, we thought the 3 diamonds could be lined up and inserted into the ferrule along the top flat of the rod. However, after the diamonds were set into platinum cups there wasn't enough room for all three in a linear arrangement.
The selection of wood for the ferrule and reelseat was also made by the customer. It took some time but I was eventually able to come across some exceptional amboena burl.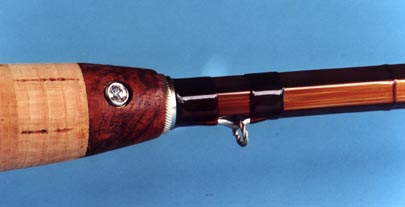 Because the diamonds couldn't be arranged in a linear fashion, they were set at 0, 90 and 180 degrees relative to the top flat of the rod.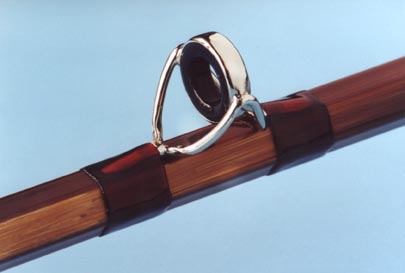 When it came time to choose a silk color, we sent off a cane section with a variety of different test colors...mainly differing shades of red and burgundy. The customer had a number to choose from at his disposal, but settled on a wrap that complemented the color of the cane as well as the deep reddish hues of the amboena wood. We also spruced up the rod with about 90 intermediate wraps.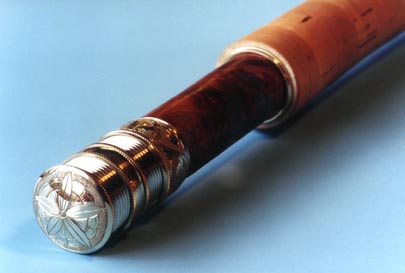 I felt the engraving of the ferrules and reel seat was exceptionally well executed and looked very nice against the deep red tones of the amboena spacer.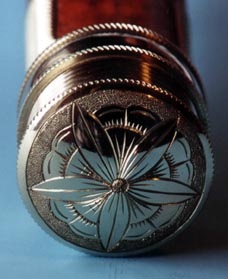 This type of project is typical of the joys of doing custom work in our Presentation Series rods. We get to do something a little different then our normal rods, and it's such a pleasure having interaction with the customer...I would venture that RP and us had exchanged well over 50 emails and numerous phone calls between the initial contact and delivery.
We've already received very good news from the owner as he's taken rainbows, browns and brookies with his new rod. We hope we get some pictures of him with some fish!
---
This is another recently delivered rod. Made for a client in North Carolina for the purpose of fishing small brook trout streams in high style, it is a 6'3" 3-4 wt. The color of the cane, reel seat spacer and wraps harken to the darkened woods and crystal clear running water that are the home of Salvelinus fontinalis. This rod features a fully engraved reel seat with a dark maple burl spacer by Bob Venerri. The ferrules by Bailey Woods are also fully engraved. The rod is wrapped with a very subtle olive silk, delicately tipped black. There are over 100 intermediate wraps with a very fine and diminutive signature wrap above the grip.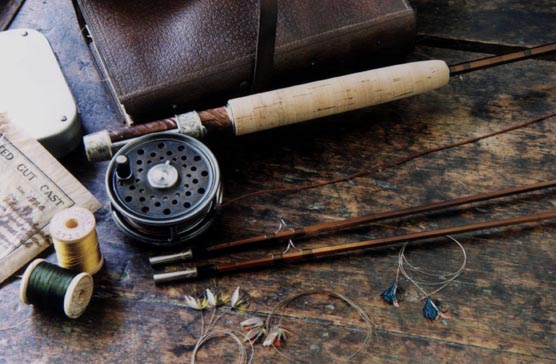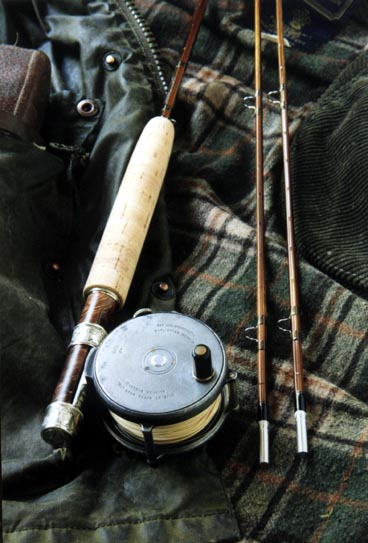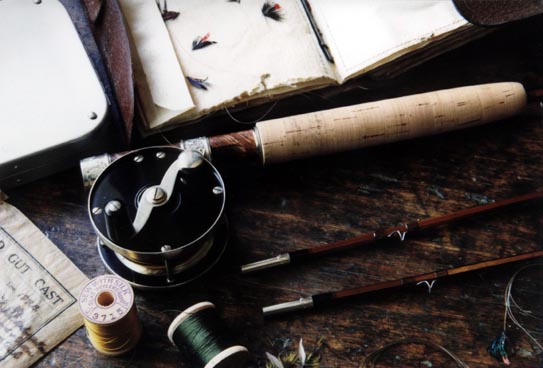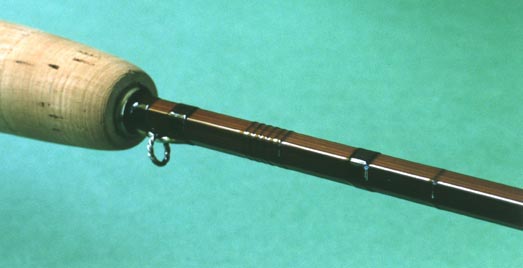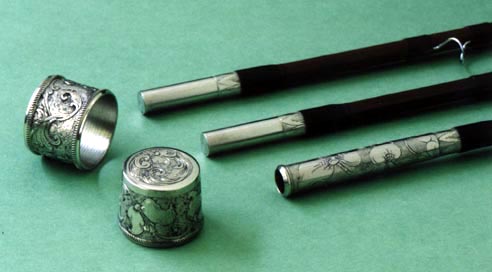 Just Added!
The owner of this rod wanted to display it in his office and requested that we build a display box for it. We were able to obtain some very fine curly cherry boards for this project.

This features raised panel construction with felt lined supports for the rod. The pegged corner details and knob were fashioned from left over pieces of ebony from our Ebony Presentation Rod of 1999.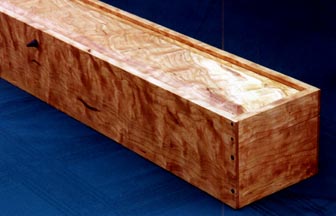 Finished with hand-rubbed tung oil, the patina of the wood will improve with age as the cherry oxidizes to a deeper red color.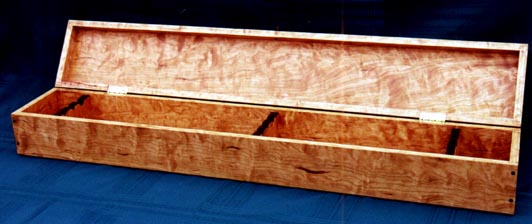 ---

This rod is an example of the ultimate rod makers art. It features a butt section crafted by splicing walnut strips between the cane strips to form a dramatic swelled butt that continues to become an integral grip and reel seat. The richly flamed cane is adorned with subtle, difficult to execute, three wrap intermediate windings in a light olive silk. Guide wraps are also in olive silk, with forest green silk at the ferrules. The agate stripping guide and finely knurled reel seat hardware are of jewelry grade nickle silver. This stunning rod is presented in figured walnut case of raised panel construction, with inlaid strips of cane at the mitered corners and a delicate knob also fashioned from cane. The case is finished with hand rubbed tung oil.
---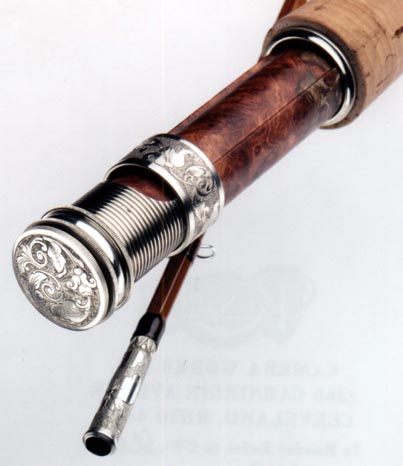 This is a detail photo of another of our Presentation Series rods. This rod is a three piece, seven and a half foot, 4-5 wt. The beautiful engraving, done in the Rose and Scroll style, was done by a master gun engraver and sculptor. The reel seat slide band, butt cap and ferrules are all fully engraved. This rod also features guide wraps and full intermediates in a rose color silk, delicately tipped in black. The wraps at the ferrules are of a harmonizing deep burgundy silk. There is a very delicate signature wrap, also done in rose and black silk. The reel seat wood is burled amboena. The special case is a hollow section of bamboo with walnut end caps.

---
These rods are available only by special order, please call or email for details.
---
---
!!!!!!!! Special Offer !!!!!!!! Order any J.D. Wagner flyrod with a Hardy reel and we will fill the reel with backing and a Cortland 333HT DT flyline for FREE!!!!!!!!!!!
---
© Copyright 1999, 2000, 2001, 2002, 2003, 2004, 2005, 2006, 2007, 2008, 2009, 2010, 2011, 2012 J.D. Wagner,Inc. all rights reserved.
---