Classes and Blanks

---
We are now taking registrations for 2006. This will be our eighth consecutive year teaching cane rodbuilding. Our classes will again be held at Sunnybrook Trout Club in Sandusky, Ohio. Students will spend the days building their own split cane flyrod and evenings casting for big, feisty trout on the 1-1/2 miles of private trout water or in the 10 acre bass pond. The reasonably priced package includes tuition, first-class lodging and three meals daily for 5 days, and all club amenities.
Class Package Includes:
Class Instruction
All Building Materials including cane, ferrules,cork,reel seat, guides and tip-top, silk thread.
Course Guide
Private Room for 5 Nights
All Meals
Catch and Release Fishing
Save time, money and frustration by learning rodbuilding techniques and low cost alternatives to commercially available machines
"Thank you for the terrific class ! It was all I had hoped for and more. I learned so much so fast - you have created the ideal "rod makers habitat".-M. Audie, Alaska
I enjoyed the class and everything around it! The guys and Rosie were all great to be with. The food was excellent the company great. Regards to Mr. Lamb and his staff. What a great time I had!-M.Trujillo, Colorado
"I know you don't want to be "poobah-ized" but too bad. You really are a master. I learned more from you about rodmaking in 5 days than I would have learned in years of work alone at the bench. Thank you.
Plus! Your class was so much fun I'm sorry it's over. I'd love to do it again."- RC, ILL
Class size will be limited to four students to insure plenty of personal attention. In addition, we are offering a $150 discount on our class for any customer that purchases or already has purchased a set of our planing forms. When you consider all of the additional costs of attending other classes(meals, lodging, fishing license, etc.) we believe we are providing an unbeatable value. Enjoy your vacation, learn a new skill and take home your very own cane rod. Please contact us for complete details including a registration form and course syllabus. We have a blast doing this and classes fill quickly, so please reserve a spot early!
Class Dates for 2005!
We are now taking registrations for our 2005 rodbuilding classes - contact us for a class brochure, syllabus and registration form. See some pics of the previous classes below!
July 9-14, 2005 Only two openings remain!
July 23-28, 2005 CLOSED
July 30- August 4, 2005 Two openings remain!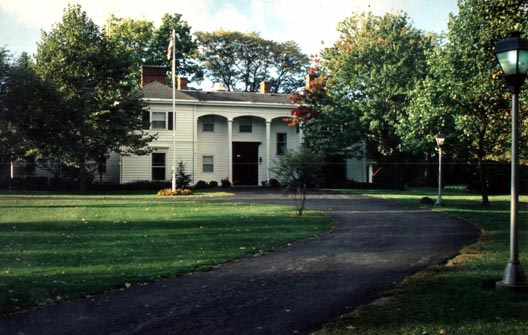 Beautiful Sunnybrook Trout Club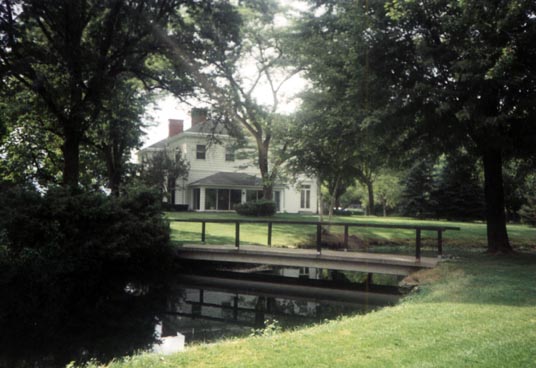 Enjoy 1 1/2 Miles of Private Trout Water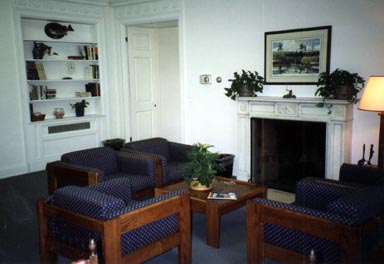 Relax in the Den, Library, Sunroom or Your Private Room
---
July 19-24, 2003 Rodbuilding Class
Wow! Another great rodbuilding class...what a pleasure it was for me to teach these summer sessions! We were blessed with another week of mild and cool weather, great fishing, and some talented students!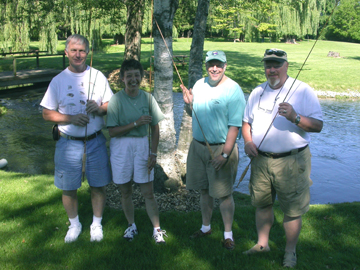 Michael Wolford, Nancy Combs, Kevin Bingham, Lan Bingham
I was looking forward to this class for many reasons. First, it was great having our first pair of brothers attend, Lan and Kevin. Lan's lovely wife had purchased a rod of our's for Lan last year but we hadn't met in person, and Kevin's dog had nipped my heals once at Sunnybrook. In addition, a few months ago we got an email from Nancy asking us if a spot was still open. She seemed quite excited, and we were very happy to have her sign up. It's great having women attend, and I wish we had more of them enroll. Mike had met us in Cincinnati a couple years ago and we were looking forward to meeting again this year, but our plans were thwarted by a freak February ice storm.
We started as we always do, over a dinner of filet mignon during which we got to know each other a bit. Over desert, I gave a little talk about the history of cane rods and a brief overview of the class schedule, then we were out to do some fishing! After a full breakfast Sunday morning, we were out flaming, splitting and straightening bamboo. This is Lan filing a node on a culm.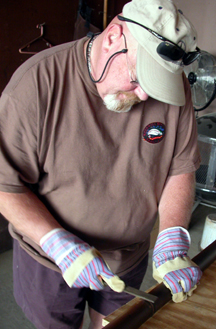 After dressing the nodes we began to split some bamboo. This is Kevin, making perfect splits right off the bat!
After learning about how to rough out strips, how to sharpen and the basics of a block plane, we next covered tapers and how they relate to rod action and the planing form.....so the next step was to get the forms set. This is Nancy, who was a wiz at setting her forms.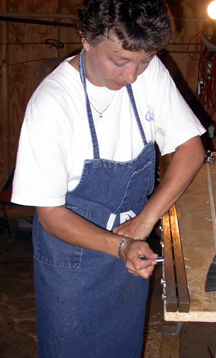 Nancy is a nurse, so I couldn't help calling this her 'Nurse Ratchet' photo. Yuk, yuk! Mike proved to be an excellent craftsman and won the 'best glue lines' award from me. He had a bit of experience woodworking, and was soon planing away cane at an incredible pace. Sure hope this guy doesn't 'turn pro'....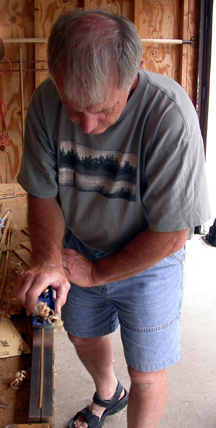 Tuesday is traditionally glueup day. Here's Nancy mixing and spreading glue.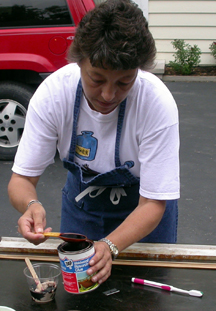 We moved along quite quickly, thanks to the hard work of the class. That meant that we could take some time to relax a bit, do some extra fishing, etc. Kevin worked a bit quicker then Lan, so here he is taking a break while his brother toiled away.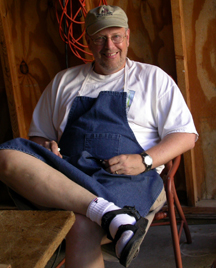 There was some good natured brotherly ribbing including a story about Kevin and dog food, bit we won't repeat that here. The next step was turning the grips, and here's Mike working on his.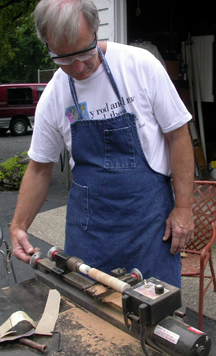 Another nice aspect of learning the craft in a class setting is that it allows you to try tools like this Sherline lathe prior to purchasing them. With this knowledge, you can make wise purchasing decisions and save a lot of money.
All too quickly the week came to an end, and our summer classes were over. I want to thank everyone for their hard work and support, and hope you can forward some pictures of your rods and fish caught with them!
July 12-19, 2003 Rodbuilding Class
This class couldn't have gotten any better: enthusiastic and talented students, absolutely fantastic mild weather, and the usual Sunnybrook hospitality! This class was attended by students from PA, OH, IL and MN.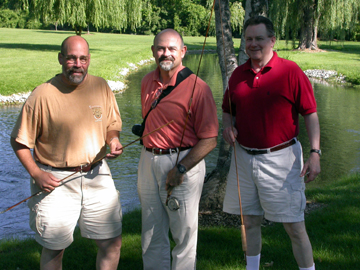 Ron Caimi, Steve Yasgur, Michael Daniels(Joel Epstein not pictured)
As usual, we began by learning all about Tonkin cane and students were splitting cane like pros in minutes. Ron and Steve, who had both built some rods prior to attending the class, were amazed at how easy it can be once you learn a few tricks!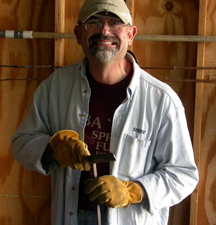 This is Steve Yasgur. Why is he smiling? Because he just learned how to split strips without waste and hassle!
In no time the students had reduced the culm to 48 perfect strips and then learned how to straighten and dress nodes. After they learned a variety of methods to rough out the strips into equalateral triangles, we jumped right into a discussion of tapers and began to set the forms. This is Michael setting his forms for his rod.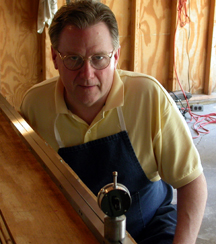 After we got the forms set, and a lecture on sharpening, the guys planed like no one's business. Man, what a fast group! And the quality of their work? Outstanding! This is Ron making a nice pile of perfect shavings.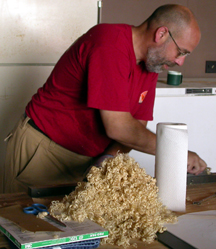 It amazes students-and still amazes me- how that large hollow tube of grass can be formed into such delicate yet strong rod strips. Here's Joel with the raw material and his first butt strip.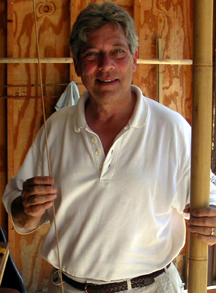 By early Monday, everyone had their butt strips completed and we began the tip strips. The process of planing them is the same, but man do those strips get tiny! It just doesn't seem possible to make them without them breaking or to visualize how they'll ever come togther to form a tip, but they do! This is Michael with his first tip strip.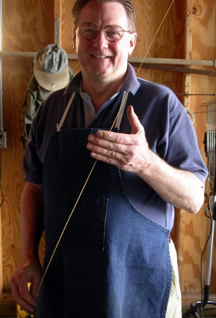 By Monday afternoon everyone had their strips done, so we spent some time going over rod repair and restoration. Tuesday was glueup day and we learned all about different glues, how the binder works, and soon we were getting our hands sticky.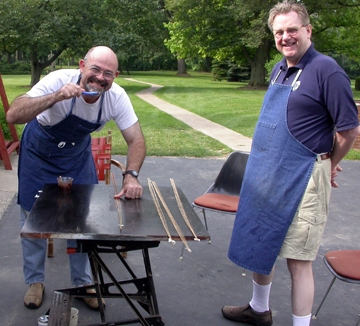 The students next learned about cork and forming grips, how to buy a lathe and how a lathe functions, and they were soon turning their own grips. The also leaned the Legend of the Swantzengrippe. This is Joel making cork dust.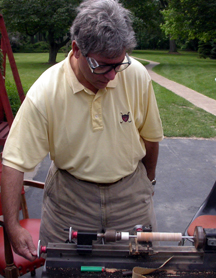 Between all of these steps the students learned about silk and practiced various wrapping techniques and finishing options, ferrules and how to prep them, etc. Because they were so fast and talented we had plenty of time to relax and just enjoy the fishing and Sunnybrook atmosphere. Thanks for everything guys, and outstanding work!
---
2002 Cane Rodbuilding Classes
This year marked our fourth consecutive year of rodbuilding classes, and as usual a great time was had by all. One of the real pleasures of this year's sessions was the attendance of two women, Miri Robinson and Vickie Bjeda. We met both during our spring show season and wish that we could have more ladies attend as participants! So ladies, if you are considering attending we can assure you that you can learn this craft and that no special strength or skill is required.
July 13-18, 2002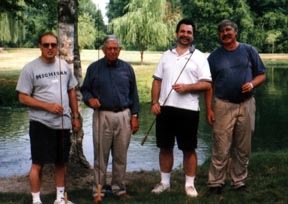 Jerry Freund, Milton Trujillo, Ed Sarvano, Jim Hogle
The first class got our season underway in great fashion. Both Ed and Jerry(and his lovely wife Rosie) came in from PA, Jim flew in from MA and Milton from CO.
July 20-25, 2002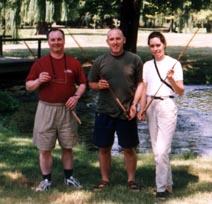 Russell H. Dabney, Nick Taransky, Miri Robinson
As mentioned, we met Miri and her husband Nick at the flyfishing show in College Park, MD. Russell and I have conversed many times via email over the years...it was nice that he finally was able to fit the class into his schedule. This class was a breeze with only three people and Russell had built some very nice rods already, so he was way ahead of things which meant I had extra time to keep an eye on Nick. Nick and Miri were here in the States, but have now returned home to Australia. Hey mates! Russell is from GA, which is kinda like another country, too.
July 27- August 1, 2002
Thomas Offutt, Ramsey Yoder, George Klein, Charles Walton
Ahh...local boys done good. All of these gentlemen are from Cleveland and belong to a secret fraternity known as the Hookers and Bangers. They take a number of trips together each year -all over the world- so it was a real honor that they all signed up to attend. Charlie's rod finished out extraordinarilly well.
September 14-19, 2002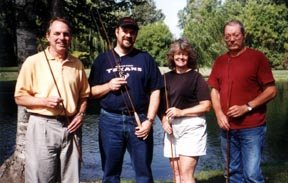 John Roboski, Randall Martin, Vickie Bejda, Fred Appel
What a collection in this group! John came in from Alabama, Randall from Texas, Vickie and her husband Allen from NJ, and Fred from NM. We were blessed with some really great, cool weather and a lot of laughs together. John(said with 3 syllables) kept us in stitches while I kept Vickie in band-aids....John was unwilling to share his special antidote. The term 'butt cap' will always make me laugh after being with this crew.
Check out photos of the 2001 Classes
Check out photos of the 2000 Classes
Check out photos of the 1999 Class!
Blanks
These are the highest quality cane blanks available. The carefully chosen cane is flamed to a rich brown with golden nodes spaced 3x3. Two tips are supplied.
The three lengths offered will each handle two line weights with equal facility and cover the majority of fishing situations. The actions are crisp and progressive with delicate tips.
Blanks are available as unferruled blanks or ferruled and impeccably varnished, ready for the grip, reel seat, and guides.

MODELS
6'3"
---
3-4wt.
7'3"
---
4-5wt.
7'9"
---
5-6wt.
PRICES
Unferruled Blanks $570 plus shipping

Ferruled and Varnished $870 plus shipping
Our Patriot Series Rods are also available in blank form. See our Patriot Series page.
---
---
!!!!!!!! Special Offer !!!!!!!! Order any J.D. Wagner flyrod with a Hardy reel and we will fill the reel with backing and a Cortland 333HT DT flyline for FREE!!!!!!!!!!!
---
© Copyright 1999, 2000, 2001, 2002, 2003, 2004 J.D. Wagner,Inc. all rights reserved.

---