Rodbuilding Tools, Components & Supplies
---
We are pleased to announce that we now carry a complete line of cane rodbuilding tools. In addition to our planing forms that set the benchmark standard of quality in cane rodbuilding, we now offer a complete selection of high quality hand tools along with dial indicator sets, micrometers, calipers, and ferruling tools. Save hours of frustration searching for tools individually and receive our assurance of quality as each of these tools has our endorsement based on our own personal experience.
We can also be your one stop source for rodbuilding components and supplies including ferrules, guides and tip-tops, reel seats, winding checks, silk wrapping thread, cotton binding thread, ferrule cement and much more. Details on all of our tools, components and supplies are listed below.
Ordering: Ordering any of our products is easy! Once you know what you need, just email us with your list of items (be sure to include size, style, etc. when applicable) along with your name and shipping address.We will promptly reply with confirmation of items in stock and will give you a total including shipping costs. We maintain a good inventory and are generally able to process your order immediately upon receipt. In the event any items are out-of-stock you will be notified with an estimated delivery date.
Shipping: We are proud to offer high quality tools & components to interested builders at competitive prices. We do not "pad" shipping charges but rather pass along our actual costs. That is why you don't see a specific shipping cost listed for each item! The weight and value of your total order and your location will determine your shipping charge...plain & simple!
We ship UPS Insured so a daytime shipping address (P.O. Box does not suffice) should be noted with your emailed order.You can save money by providing your business or office address (UPS charges extra for residential deliveries) and also have the peace of mind knowing someone is there to accept and sign for your packages. If you or your business have an account set-up with FedEx or another carrier and prefer that we ship against that account that is fine with us. FedEx is a convenient option for us; other carriers will be accommodated if located nearby our shop.
Payment: We do not take credit card payments at this time, except via PayPal. Orders (including the quoted shipping) can be paid by personal/business checks or by money orders/cashier checks made payable to J.D. Wagner, Inc. It is our policy to ship orders immediately upon receipt of payment. You will be notified via email when your items are shipped, provided a tracking number and estimated delivery date.
Special Note to International Customers: We ship internationally via UPS only! We realize that this is more expensive then shipping parcel post, but it is the only way to insure your package can be sent securely and tracked as it progresses to you. We accept international payment in the form of PayPal only, payable in US dollars. $300 minimum order required. Please email us for a quote on your order.
Ready To Order? Send us your list of items by email now! Or you can call us at the shop at (440) 845-4415 from 8a.m.- 8 p.m. EST/EDT.
If you are new to the craft and have questions about the process of building or need some advice, check out our Rodbuilding Pages and Getting Started page.
We are very pleased to announce that we are featured in Ed Engle's new book, Splitting Cane, Conversations with Bamboo Rodmakers. Read about it and other rodbuilding books here.
One way to have a ball learning the craft and drastically reduce the learning curve is to take a cane rodmaking class!
Sign up to receive our monthly Rodbuilding Tools and Tricks Newsletter, which features helpful hints and specials!

---
Planing Forms
Professional quality planning forms. Designed for those seeking the utmost in dimensional and bevel accuracy. These forms are heat-treated, stress-relieved, and surface ground for the ultimate in accuracy. Guaranteed to work perfectly with no tuning or tweaking necessary. 76" in length, 15 push-pull stations on 5" centers, 1" thick x 1 1/2" wide, precision alignment pins. Bevel slope is .001/inch and is shallow enough on the tip side to make tips smaller then ever before possible.
We are proud that our forms are used by some of the best professional and serious hobbyists in the world. A partial listing of users:
Don Schroeder, D.G. Schroeder Rod Company
Per Brandon
Jon Parker, Parker Rods
Mike Clark, South Creek Ltd.
John Bradford, J.A. Bradford Rod Company
Bernard Ramanauskas, Eden Cane
John Zimny, J.C. Zimny Rod Company
Chris Bogart, Shenandoah Rods
Robert Stroh, Robert Stroh Flyfishing
Steven A. Weiss, Rodmaker
Christian Strixner Rods
Nick Taransky, Taransky Rods
Chuck Neuner, Carman's River Rods
In addition, there are people involved in marketing forms that use our forms to make their rods. We'll spare them the embarassment of listing their names here and instead recall the words of Charles Caleb Colton : "Imitation is the sincerest form of flattery."
Don't settle for second best.

Cost is $920 plus shipping.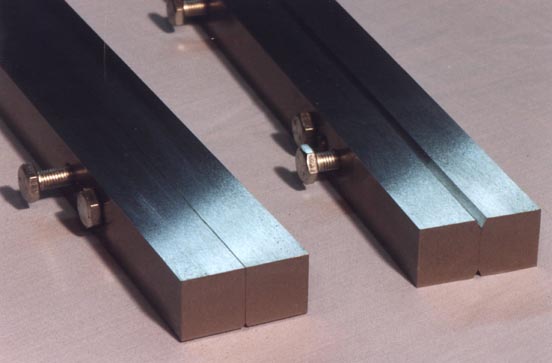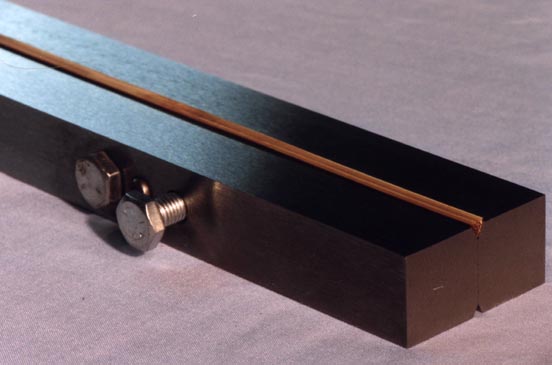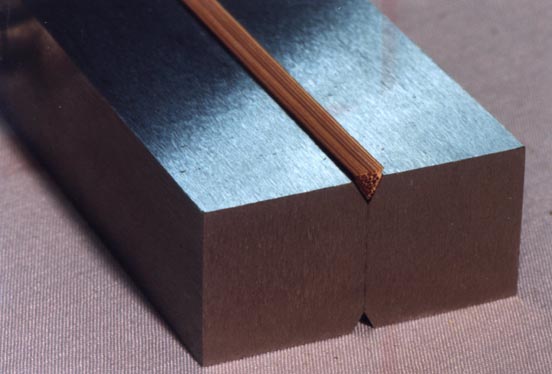 "I set up the forms today and I can say without exception that they are the finest planing forms I have ever seen. This is the third set of forms I've owned, and it is far and away the best.
I spent half of my career designing machines and tools and I can tell you the execution of these forms is of the highest quality. The finish and quality of the groove and surface grinding is usually reserved for jibs and ways for precision machine movements, and the line-up and parellelism of the two halves is dead on. It's a 76" Joe block.
Excellent product Jeff. "

Swelled Butt Planing Forms!
This is a project we've wanted to do for years, and at customer request we've finally got them together. For making dramatic, abrupt T&T or Heddon-style swells! We've designed these forms so that you can make swells such as these, or like our normal forms more gradual swells like those called for in Leonard or Garrison tapers. Best of all, you can make any rod up to 8' 2-piece sections with no swell at all...so there's no need for a dedicated form...these babies do it all.
These forms are otherwise made to the same specs as our original forms that have long set the standard in bamboo rodbuilding, except they are a full 1" thick to accomodate the larger swelled butt sections. Price is $1,120 plus shipping.
This is a picture of the first blank I planed up with this new tool, featuring a swell of about .120 over 2"...and you can make them even bigger, if you desire!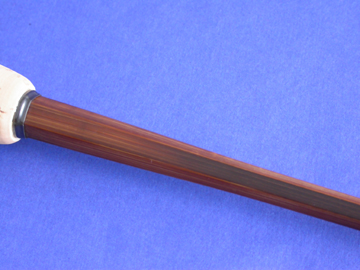 Another view of a couple blanks made with our new form!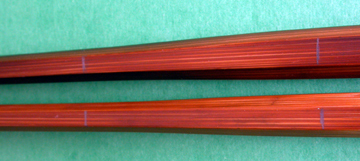 New! J.D. Wagner Quad Forms!
Again at customer request, the highest quality Quad Forms available. Like our swelled butt forms, these are made a full 1" thick to accomodate wider quad strips, yet the tip bevels are so fine you can make quads with tips finer then have ever been designed. We designed the forms so that each 'side' of the quad(right and left) are seperate entities so that they are easier to move about and set. Cost is $1,700 plus shipping. These forms were used to build our 2003 Limited Edition Sans-a-Bitch rod.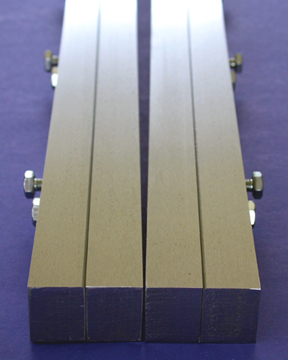 A view of the fine, fine tip bevels: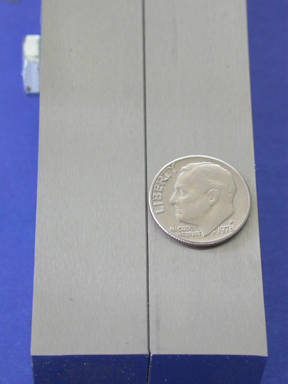 NEW! 90 Degree Points for Setting Quad Forms
Made from brass with standard indicator thread, these point allow you to quickly and accurately set quad forms using a standard dial indicator. Almost 3/8" wide, so you can really crank your forms open without the point 'falling into' the form. Cost is $15 plus shipping.
J.D. Wagner Nodeless Scarfing Block!
New! J.D. Wagner Nodeless Hand Splicing/Scarfing Block!
A new offering for those wishing to cut nodeless scarf joints by hand! A super high quality tool weighing in at over 5 pounds, the tool is designed to allow the maker to cut splices at either 3 or 5 degrees. Spring actuated via heavy-duty die springs and precision dowel pins, the unit is placed in a vise. The vise is closed to clamp the strip for planing. Once the strip is done, simply back off the vise and insert and plane the next strip. Pressure from the springs keeps the block in place in the vise. High quality stress-relieved steel, just like our famous planing forms. $185 plus shipping.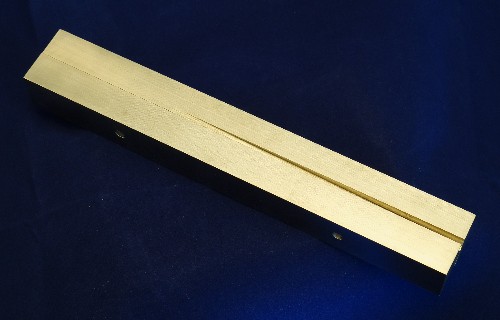 Sherline Lathes
Sherline makes a very nice, compact and well-made lathe for your turning needs and we are proud to offer their products. We recommend the model 4400A, which comes with all the accessories you need to get started with using a lathe in your rodbuilding efforts. Sherline offers an economic answer to your lathe needs.
NEW! J.D. Wagner Reel Seat Turning Mandrils!

A brilliant idea, if I do say so myself! Turn and mortise your own reel seat spacers without threaded rod, washers and nuts and all those other time consuming and cumbersome gizmos! Just bore your wood blank and slide it onto the mandril and it will lock in place on the taper! Made from tool steel in two sizes for 5/16" and 3/8" seat bores! Awesome tool! Cost is $44 each plus shipping.
NEW! Wagner Reel Seat Turning Mandril Mortising Modification!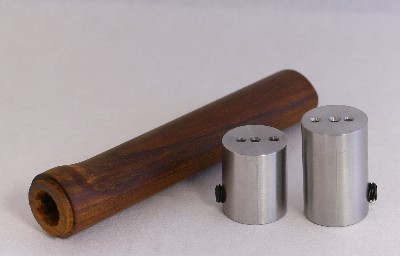 To be used in conjunction with our very popular reel seat turning mandrils. This mod allows you to cut the reel seat mortise on the lathe! No routers or router bitts or milling setups necessary, do it all in the lathe! As designed, gives the user the option of cutting both the common 3/8" radius or a flatter 7/16" radius. Comes with complete instructions. Specify the bore size of your mandril, 5/16" or 3/8". Introductory cost is $55 plus shipping.
NEW! Brad Point Drills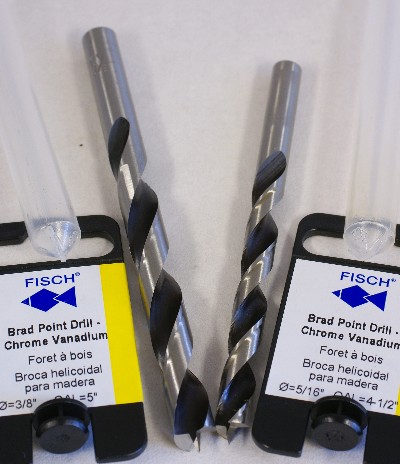 Super high quality brad point drills by FISCH(TM), razor sharp, for drilling wood reel seat blanks. The use of a brad point drill helps eliminate drill wander and these two are the most common bore sizes and also work with our turning mandrils.. Cost is $5.00 plus shipping for 5/16" and $6.50 plus shipping for 3/8".
NEW! MUST HAVE! Uncle Bill's Sliver Gripper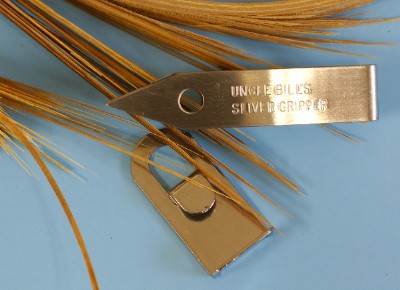 These are finest tweezers I've ever used, and are a must-have for bamboo rodmakers! Despite their modest cost, this is a surgical grade tool, invaluable for getting out those pesky bamboo slivers. Made of spring temper stainless steel and comes with a very nice clip that protects the tips and can be attached to a keychain or lanyard. Get a second pair for your fly fishing vest! Best of all: MADE IN THE USA! LOVE these things! Cost is $6.95 plus shipping.
Rubber Abrasive Blocks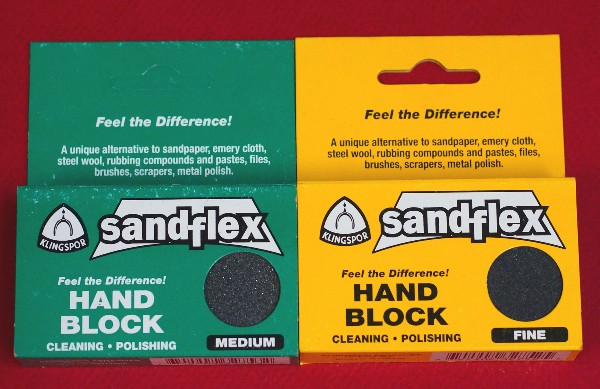 Klingspor Rubberized Abrasive Blocks: These little things are wonderful to keep handy in the shop. They have abrasive particles embedded in a rubber matrix and are very helpful for a variety of abrasive tasks: light rust removal from planes, irons, and planing forms, etc. But I get the most use out of them for metal finishing on the lathe. We carry medium and fine grits. Cost is $3.99 each plus shipping.

The Wagner Binder
At long last, a high-quality, affordable and versatile binder that can be used to bind in three different binding modes!
[The Wagner Bamboo Rod Binder ]
NEW!! Quad Ferruling Broaches!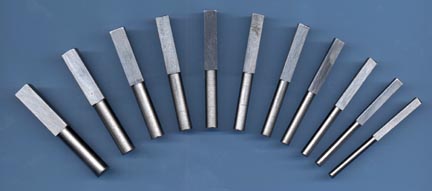 When we began building quads, learning how to broach round ferrules to square was a major headache. Lots and lots of trial and error, and a lot of split /ruined ferrules! Not to mention the cost of tooling up! At the request of a number of builders, we've finally made available a complete set of ferruling broaches.
These broaches are available as a set and are sized in 64th increments, from 8-18 64ths. They were designed so that a rodbuilder can customize them to taste, so you can broach your own quad ferrules with corners as distinct and well-formed as you like. Made of high quality steel, the set comes with complete instructions which will save you much time, money and grief over trial and error learning. Believe me, unless you can channel the ghost of Sam Carlson for instruction, you'll greatly appreciate learning this process the easy way. $165 + shipping.
Note: We highly recommend that you use step-down, non-serrated ferrules by Classic Sporting Enterprises and we routinely carry a good stock of these. We also recommend using a set of our ferrule mandrils in conjunction with these broaches.
Splitting Tool

A very cool tool. This hand held cane splitter works like the versions used by Dickerson and Winston and will evenly split a predetermined number of strips in seconds! Simply center the splitter over one end of a culm, give the tool a light tap with a mallet to start the splits and then use the handles to force the tool down the culm! The version shown splits 6 strips, but we also carry versions that can split into 8 strips and 12 strips! Builders that build nodeless rods will be especially amazed at how quickly they can split out strips. Heavy-duty cast iron construction will last a lifetime! Costs: 6-way splitter $56 + shipping, 8-way splitter $88 + shipping, 12-way splitter(by special order) $173 + shipping.
Hock A2 Blades
I've long been a fan of the Hock replacement plane irons. It would have been difficult to improve upon a blade that takes and holds such a keen edge, but the folks at Hock have outdone themselves with their new A2 blades. The A2 differs from their normal blades by the additon of some chromium and molybdenum to increase toughness. In addition, each is cryogenically treated which increases the edge-holding capability of the blade.
I was naturally skeptical until Ron Hock sent us a blade for testing and trial evaluation. I found that instead of the usual 2-3 strips planed before needing to resharpen, I was able to consistently get 4-6 strips finished before going back to the sharpening stones! I don't find sharpening to be too time consuming or troublesome, but anything that will allow me to sharpen 1/2 as often has my appreciation. In addition, a blade that normally lasts about a year for us before wearing down to the slot will last twice as long, so it's a better value all around! Cost is $50.00 + shipping.
Wood Rough-Out Forms
Used to form the first and second 60 degree grooves on rough split strips to form a perfect equilateral triangle. Made from kiln-dried hardwood and vary in length from 42-44". This design incorporates the best features of both the Garrison and Cattanach plans. On both the butt and tip sides of the form are two grooves of the same depth, one with a 30/52.5 degree angle pair the second with a 60 degree angle. Simply form the first bevel using the 30/52.5 groove and then flip the strip into the 60 degree groove and plane the second angle into the strip! Instruction sheet included. Cost is $59 plus shipping.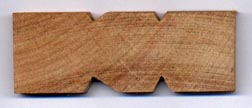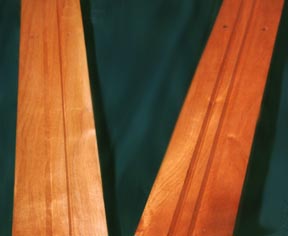 Center Gage
Used to check angles on strips, rough measuring, as a thread gage and set-up tool. Cost is $12.50 plus shipping.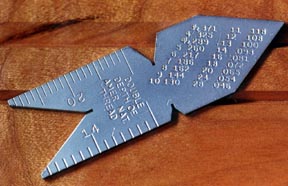 Hex &Quad Punches
Tapered hexagonal punches for forming hexagonal winding checks from round ones. Cost is $45 plus shipping.
NEW! We now have in stock a punch designed for quad builders. Same price as the hex punch!
Note: These punches function best with non-knurled winding checks. We keep a good stock of these in sizes 14/64- 32/64 at $7.00 each plus shipping. If you don't wish to make hex checks yourself, but still like the look, we carry pre-formed hex checks by Classic Sporting Enterprises.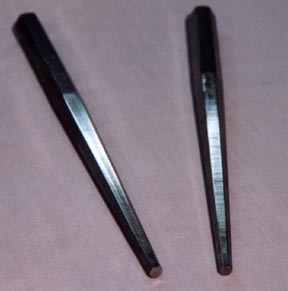 Dial Indicator Sets
We've added this set after numerous requests from rodbuilders that have had difficulty finding parts that were functional, economical and compatible. This set comes complete with an analog dial indicator with a 60-degree point, base and an indicator standard used to calibrate the dial indicator for maximum accuracy when setting your forms.$125 + shipping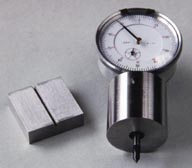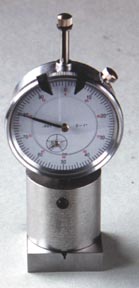 New! A new addition for those that desire a digital dial indicator as opposed to the analog versions shown above!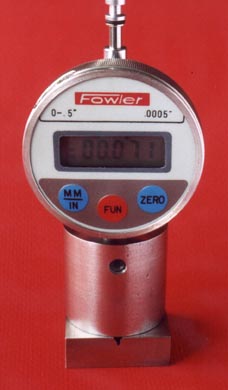 Cost for the indicator set, w/the digital upgrade, is $250 + shipping.
Measuring Tools
We now are offering two indespensible items needed for cane rodbuilding: a 6" dial caliper and a 1" micrometer.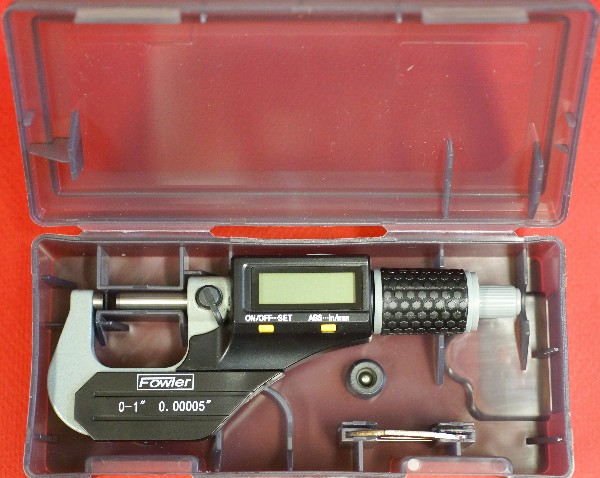 A Fowler(TM) mic is a low-cost but high quality answer to your measuring needs. The digital style affords an instant readout to .00005 and are recommended for those that do not know how to read a traditional mic. Comes in a nice plastic case. Cost is $109.95 plus shipping.
A 6" digital dial caliper is indespensible for a variety of shop measurements. We use this tool to get quick readings where accuracy isn't quite as vital, as well as for comparative and inside measurements. The slide also has a nice 6" and 150mm scale, so you can get a quick reading without even opening the dial. Can also be used in some applications as a depth gage. Like the mic above, it comes in a nice foam-lined case for protection when not in use. Easy to read, resolves to .0001", can be switched to metric readouts! Cost is $89.95 + shipping.
Hand Tools
A one-stop place to acquire all of the handtools needed to produce a rod! Save time and money by purchasing from one source as well as the ability to contact us for any help you may need as you progress.
Ferrules and Ferruling Tools
We carry a complete line of Classic Sporting Enterprises ferrules, as well as a number of handy accessories: Ferrule cement, pinning wire and bits, lapping files, ferrule plugs etc.
[Ferrules and Ferruling Tools]
CSE Reel Seats, Hook Keepers, Hex and Round Winding Checks and More!
In addition to their ferrules, we are proud to carry a number of fine Classic Sporting Enterprises reel seats and trimmings. Besides the exemplary quality of their work, CSE is by far the most reliable and timely supplier we have ever dealt with. Their product line is continually expanding and we look foward to offering new items as they become available. Stop back here often to see their new products.
[CSE Reel Seats and Accessories]
Rod Tubes by Landmark, Rod Bags and Tags by CSE
Once you've completed your masterpiece, you'll be needing a rod tube and bag, and we've got the best available.
Snake Brand(TM) Guides and Tip-Tops, Perfect Agate Stripping Guides
Available either individually or discounted in bulk! We carry Snake Brand(TM) snakes in hard chrome and black nickel. We also carry chrome and black nickel finish tip tops by Snake Brand(TM) and agate stripping guides by Perfect.
Grip Turning Mandrils
NEW! Made of rigid and corrosion-resistant stainless steel, .250 in diameter x apx. 12" long, center drilled at both ends for support with a live center. Cost is $7.25 each, or 4 for $24.95, plus shipping.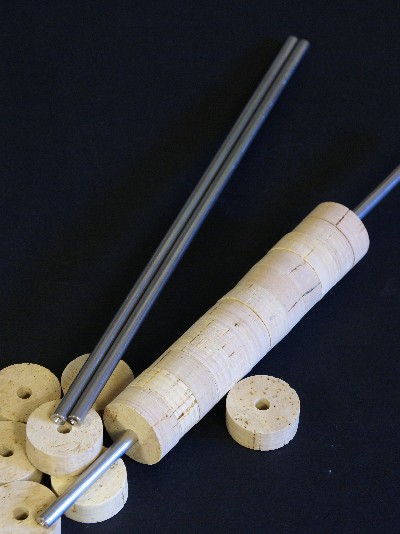 Cork
We now carry three grades of cork for your rodbuilding needs!
Rod Wrapper
The J. D. Wagner rod wrapper features an adjustable thread tensioner, four thread stations, gorgeously figured hardwood base and non-skid non-marring feet. Simplicity and functionality for your wrapping needs. Cost is $34+ shipping.

Available Woods: Bird's Eye Maple, Bee Wing Walnut, Quilted Maple(limited quantity)
NOTE!: Thread tensioners are available individually for those looking for parts to build Garrsion-style gluing binders. Cost is $6 each + shipping.
Dipping Plugs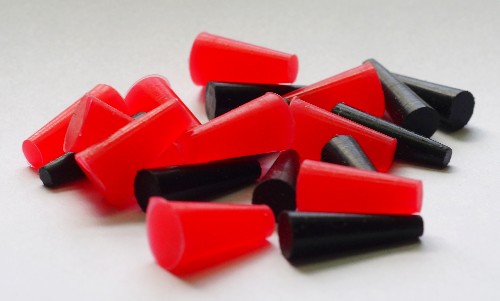 Soft tapered plastic plugs used for bluing and varnishing to keep bluing solutions and varnish from entering the ferrule. Unlike cork plugs, these do not shed dust and are reusable over and over again....when the finish builds up on them you just peal it off. In color-coded sizes, the small is black and fits ferrule ID's from .125 through .250. The large red plugs fit ID's of .187 through .343. Cost for a set of 10 of each is $7.00 plus shipping.
Flexcoat Finishing Motor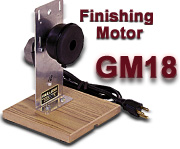 I bought one of these units about 20 years ago, and it's still going strong. This is the18 rpm model which is our preference for rotating rods while the wrap finish dries. High-quality American made gear motor. Equally versatile for cane or graphite(gasp!) work. $94.00 + shipping.
Silk
We carry YLI silk in size 100 in a multitude of colors. Cost for a 200m spool of size 100 is $5.50/spool plus shipping. We also carry Tire brand high quality size 50 silk in 41 colors for $4.50/100 meter spool, plus shipping. Note: Stock limited, see color charts below for remaining inventory!
Cotton Binding Thread
A sometimes difficult to find item, this is the 100% glace cotton thread used to bind rod sections during the heat treating and gluing steps. Size 16/4, white in color, and supplied in 4800 yard spools. $38 + shipping. 500 yard spools: $6.95 plus shipping. NOTE: ONLY 500yd spools currently available!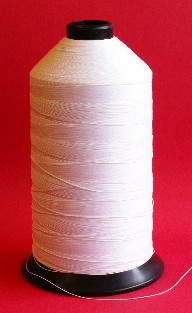 Rolite OptiGloss Metal Polish
The product to use to polish nickle silver, brass, bronze, aluminum, chrome and more! Perfect for cleaning tarnish from ferrules and reel seats. Just a small dab is needed and the large 5 oz. plastic tub will last years. $14.95 plus shipping.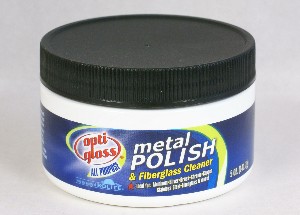 Copyright 2000, 2001, 2002, 2003, 2004, 2005, 2006, 2007, 2008, 2009, 2010 , 2011, 2012 , 2013, 2014, 2015, 2016, 2017, 2018, 2019, 2020, 2021, 2022 J.D. Wagner, Inc.
---